Main Menu : Home | Li Read | Business Card | Listings Portfolio | Gulf Islands | Reference | Real Estate Network | Send E-Mail
Gulf Islands : Galiano | Mayne | Pender | Salt Spring | Saturna | Other Islands
Other Islands : De Courcy | Hudson | James | Mudge | Parker | Piers | Portland | Prevost
| Reid | Sidney | Thetis | Valdes | Wallace | Wise

Portland Island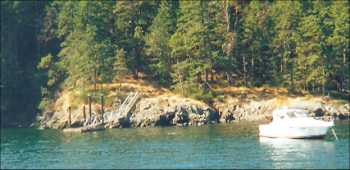 Portland Island was named after the HMS Portland, flagship of Rear Admiral Fairfax Moresby. The HMS Portland was commanded by Captain Henry Chads. The island was named by Captain G.H Richards of the HMS Plumper, in 1859. Portland is 534 hectares in size.


Once owned by the Hudson Bay Company, who in 1859 gave the island to a group of Hawaiians known as the Kanakas, who had acted as interpreters between coastal natives and English speaking fur traders.

Another interesting owner, in the 1920's, was Frank "One Arm" Sutton, a retired British army officer who lost his arm in the Gallipoli campaign of the First World War. Sutton bought the island with money he had won betting on horse races in China. The plan was to raise & train thoroughbred racehorses on the island. However the great stock market crash of 1929 wipe out his fortune, and prevented him from doing his racehorse idea.

Portland Island was presented to Princess Margaret of the UK, in 1958, to commemorate her visit to British Columbia. In 1967, the Princess returned it to the province for it to be created as a marine park. For many years, the island was also known as Princess Margaret Marine Park, Today, the island is part of the Gulf Islands National Park Reserve, and is known as Princess Margaret Park, Portland Island.


Near the south end of Portland Island is Princess Bay, a popular spot for boaters. The bay has a dinghy dock, which gives access to the Island's network of trails. Camping is allowed and there are toilet facilities. The bay also has some rocky beaches, great for beachcombing. The Royal Victoria Yacht Club has volenteer hosts to provide visitors with information and trail maps of the Island during the summer season. Note: the small island just off Princess Bay is a private island, and not part of the marine park.

In addition to Princess Bay, there is anchorage at the north end of the Island in Royal Cove near Chads Island.

There are several archaeological sites, that indicate human use of the island for over 3000 years. Refuse heaps of castaway shells, called middens, are left from centuries of harvesting the island's waters. The middens are protected under British Columbia law and may not be disturbed.

British Columbia's first artificial reef lies off the southeast shore of Portland Island, just west of buoy U15. The scuttled freighter G.B. Church serves as a haven for marine life and is an attraction for scuba divers.

Portland Island is surrounded by several islets. Brackman Island is an ecological reserve and also part of the Gulf Islands National Park Reserve. While Chads Island (named after Captain Henry Chads of the HMS Portland) and Hood Island are private islands.





Contact Li Read at Sea to Sky Premier Properties (Salt Spring), 4 - 105 Rainbow Road, Salt Spring Island, BC, V8K 2V5; Direct Tel: 1-250-537-7647