Main Menu : Home | Li Read | Business Card | Listings Portfolio | Gulf Islands | Reference | Real Estate Network | Send E-Mail
Gulf Islands : Galiano | Mayne | Pender | Salt Spring | Saturna | Other Islands
Pender : Bedwell Harbour | Driftwood Centre | Hope Bay | Map | Otter Bay Marina | Port Browning Harbour | Port Washington | Slide Show

Pender Island
Pender is actually two islands, a North and a South island. Before 1911, the islands were joined by an isthmus. In 1911, a channel was dug, to allow boats to pass at high tide. Since 1955, the two islands have been joined by a man-made bridge. This make the two Penders unique as they are the only Gulf Islands connected by a bridge. Over time the two islands have come to be referred to as one island.

Pender Island was discovered by Francisco-Eliza, commandant at Nootka, circa 1791, and the island went by the name of Sayas or San Eusbio, depending on the map. Finally in November 1857, it was named after Captain Daniel Pender R.N. of the H.M. surveying vessel Plumper.

The two islands of Pender, together, are 24 sq km, and have a combined population of about 2000.

Pender Island is one of two hub islands for the Gulf Islands ferry routes. It enjoys good service not only to the Mainland, Vancouver Island, and the other Gulf Islands. Pender is one of the islands to enjoy cable TV service in selected areas, and there is also the option of satellite links. There is an 18 hole golf course on North Pender

In Bedwell Harbour, at Poets Cove, there is one of the Customs entry points for U.S. boaters & returning Canadians entering Canadian waters.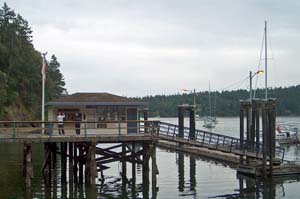 Points of Interest on Pender Island