How may I help you to buy your special Salt Spring Island or Southern Gulf Islands property?

Watch a Video of Li Read | Read a Testimonial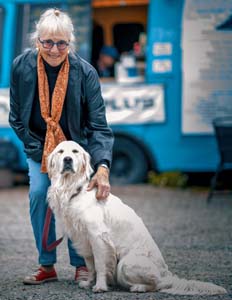 Successfully connecting buyers and sellers for many years, on Salt Spring & on the Southern Gulf Islands, including the water access only opportunities, I look forward to helping you to discover and to purchase your Island dream property.

Let me bring my expertise (Managing Broker licence), knowledge (of both inventory and market trends), enthusiasm (I know and love the Islands), and professionalism (your successful transaction is my motivation) to your benefit.

With access to all listings, from all companies, I will make certain that you "see it all", in your preferred property category, so that you're in that all important position of being able to make an "informed decision".

As a full time real estate agent, I look forward to bringing my knowledge and experience to work for you.

A consistent award winning realtor at company levels, at MLS/Board levels, and internationally (references upon request), this recognition by my peers in the industry is a statement of excellence in customer service.

Looking for information on schools, services, amenities, retirement options, theatre and cultural opportunities? Call me for details!

Information on immigration, tax issues, legal, financing, & insurance aspects of a purchase? Again, I look forward to connecting you with an extensive list of professional contacts, who are there to help guide you in these serious matters.

My goal is to help you to discover your special property, whether it's a building lot, an acreage to develop as farmland, an oceanview or an oceanfront parcel or a residential opportunity, or a commercial/investment option... whether you're just starting your search, or have already made the decision "for" Salt Spring or another Southern Gulf Island, I look forward to your call, and to helping you to enjoy a smooth transaction.

With strong negotiating skills, and a sincere desire that you achieve a successful solution to your property search, I welcome your contact.

Awaiting your call.....

Lets get started! What is your price range & property / house criteria?

Please read Required Client Information


---
Sea to Sky Premier Properties

is pleased to congratulate

Li Read

in achieving the Medallion Club

sales award for 2016.



The Medallion Club recognizes the top 10% of the Vancouver Real Estate Board, in sales achievement.

When previously affiliated with the Victoria Board, Li was a consistent Gold Award winner, including receiving the President's Award for 10 consecutive years of Gold Award achievement. The Gold Award is the Victoria Board's recognition for the top 10% of that Board (the Victoria Board currently has approximately 1300 members).

Now affiliated with the Vancouver Board (since 2008), Li's achievement of the Medallion Club sales award recognizes her in the top 10% of the Vancouver Board (there are currently approximately 13,137 members in the Vancouver Board).

Li Read also achieved the Vancouver Board President's Award (Individual) for 2016 (ranking 72nd in individual / non-team sales), and so placed in the top 1% of the Vancouver Board.

Sales awards are annual recognitions; they do not carry forward. Li's sales are Salt Spring Island sales; Li has lived and worked on Salt Spring, as a top selling real estate agent, since 1989. The Sea to Sky Premier Properties branch office, of which Li is a Managing Broker (since 2009), is located across from the Ganges Marina.

Thinking of selling? Seeking to buy? Call Li Read, and discover the difference!

Local Presence...International Connections.


---
Article: Selling in Secondary Markets: Salt Spring Island