Brinkworthy Place is a planned adult community on Salt Spring Island. All owners in this development must be 55 years or older. Brinkworthy is an excellent townhouse alterative, where you get many of the benefits of home ownership without many of the hassles.

The houses in Brinkworthy range from single and double wide mobiles to manufactured homes on a variety of foundations. Homes are one or two bedrooms, some also have a den/study, & many homes offer a second bathroom. Most homes come with a carport.

In many cases, the owners have customized the designs of the manufactured homes. Appliances are included. Often, there is a workshop/storage area, too. Unlike a townhome development, however, you enjoy your own private garden in Brinkworthy, further adding to the more "home like" atmosphere of this development.

When you purchase in Brinkworthy, you are just buying the building -- you rent the lot underneath. For your monthly rent payment you get many features :


community water
community sewer
access to high speed internet
access to the community clubhouse
a garbage collection service
use of community park areas
landscaping & maintenance of common areas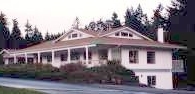 For an extra fee, you can also get a yard maintenance service to take care of mowing the lawn and keeping your yard nice.

Brinkworthy Place is close to the town of Ganges. It is possible to walk to the nearest shopping area for groceries, coffee shop, pharmacy, liquor store, take-out pizza, etc. All island emergency services are close by as well.

Small pets are welcomed.

If you meet the age requirement, Brinkworthy Place represents an opportunity!

If Brinkworthy sounds good to you, please contact me. I will be happy to answer your questions, and to give you a personal viewing of the various opportunities in Brinkworthy.