May 11, 2021.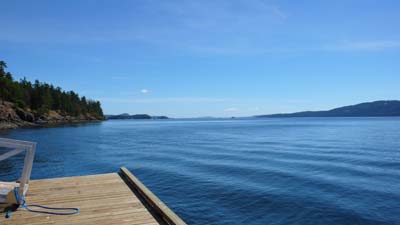 The provincial government's latest decree to stay local, unless travel is essential, in order to stop the rapid spread of covid, is being adhered to.

For visitor-centric communities (pretty much all secondary home regions, both coastal and interior venues), the lack of visitors is afflicting outcomes for all small businesses.

The restrictions are in place until May 25 (after the Victoria Day holiday weekend). And after? Hotels, resorts, restaurants (many cannot pivot to patio dining or to take-out options), visitor-oriented gift stores, etc, are hoping a summer season will save them. Meantime, no news as to when the Canada-U.S. border will reopen.

As residents, it's so important in these recreational areas to choose to support local. "Buy local...or bye bye local" was a sign in one such tourism economy region...says it all.


---
May 8, 2021.

Opportunity! 84 acres...excellent water...some ALR and some rural zoning (subdivision potential?). Beautiful land...so many options...with stylish home. A WOW!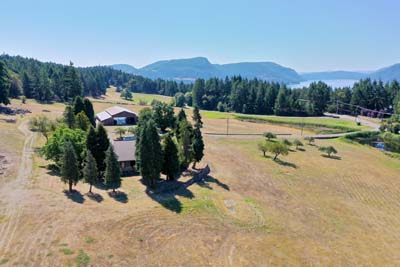 Here is a rare opportunity to enjoy the premier pastoral holding on special Salt Spring Island.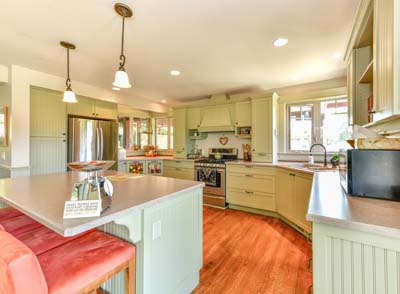 This 80.56 acre property is unique in the Gulf Islands and has only changed hands twice in the past 90+ years.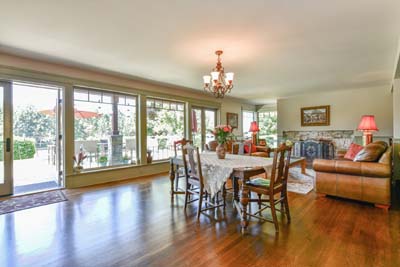 Create your estate here...the palette is ready for your ideas. Several potential locations for your home...bring your architect and enjoy your personal discovery of this most rare offering.



A forest surround protects privacy...and offers personal hiking/walking trails. Spring-fed ponds create pleasing reflective elements. Tested slope and soils for a vineyard. Majestic oak, arbutus, maple trees to incorporate into a courtyard, if desired. 8000 sq ft barn and kilometres of bridal paths for equestrian enjoyment.

On site: an appealing 4000 +/- sq ft Guest House/Manager's Residence, surrounded by mature walnut, cherry, pear, and apple trees. Stone walls, hedges, and mature landscaping features that took generations to create. It is exceptional to find these elements in place.

Open fields, blue skies, soaring birds, forest trails, gurgling springs, reflective ponds, stone, timber, warmth of all day sun, ocean views...this is a delectable property offering.

The art of living well requires a special canvas...this is a unique and irreplaceable land holding for generations to come. Here is an authentic legacy property.

Call for more information and for your discovery visit...I look forward to meeting you.


---
May 5, 2021.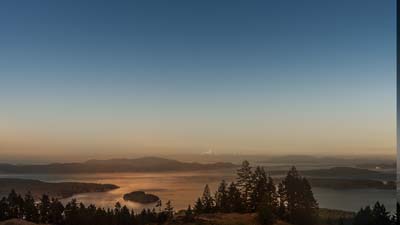 Changes in our lifestyles continue, in this in-depth shift to a totally online world.

One item that seems to be obscured in all the changes is the impact of block chain technology.

Many immediately think it applies to digital currencies (the Bitcoin concept), and it does.

It is really about peer to peer connections, though...direct communication between producer/provider and customer/consumer...and so applies to everything.

How will this affect real estate sales people? Will the middle person category that has been a feature in all sales careers remain viable?

So much is now digitally available to the consumer seeking property: sales statistics, tax assessments, school gradings, neighbourhood aspects. A consumer does not have to connect with a realtor to get this surface search information.

For several years now both the traditional MLS system, and many private company options with access to MLS statistics, have been offering neighbourhood/region general information.

The real estate boards require a lot of specific information, in order to put a listing on the geographic MLS. If a consumer does not have to contact a realtor for local knowledge or for specifics on a property, then there is no possibility of a salesperson to facilitate a sale outcome, at that early point in the process. Traditionally, sales agents were building rapport with the consumer, in early stages...information was the bridge.

As peer to peer technology continues to improve, perhaps it will be more like the English system...buyers physically view and the seller does the showing. Who is in the middle? Hmmm...remember the buggy whip? Long gone.


---
May 2, 2021.

Exceptional waterfront lot in premier neighbourhood...sweet English Country cottage-home and guest-studio just need to be loved again. Check this one out, if you are seeking sunny privacy at seaside.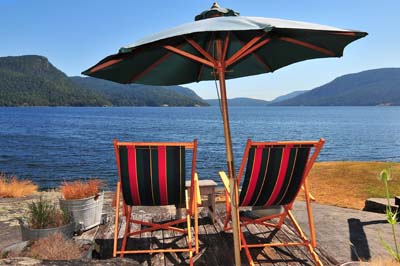 One could be in the south of France here...it's on the shores of beautiful Salt Spring Island. This microclimate that blesses the Southern Gulf Islands, including Salt Spring Island, is known as "cool Mediterranean". This property delivers on that alluring ambiance.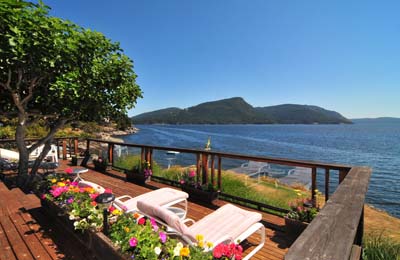 Superlative oceanfront awaits you! Warm ocean swimming here - lowbank sandstone foreshore, private cove! Panoramic ocean & mountain vistas! Exquisite home with true seaside "allure" - lovely "English Country" atmosphere. Easy-care & very appealing garden (deer fenced).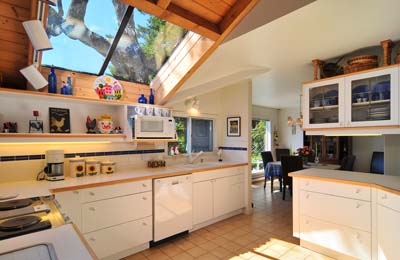 Formal entry/foyer into cosy living room, feature fireplace, spacious country kitchen with dining off (French doors out to patio and very pleasing garden spaces), family room with easy access to expansive oceanside decking), two bedrooms/bath, plus powder room for guests.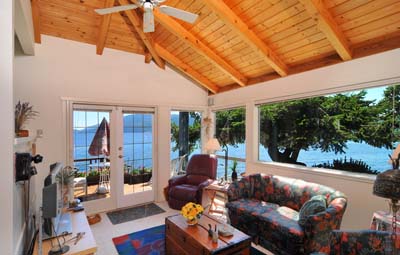 Sunny (S/SW/W - enjoy the sunsets!), private & in Salt Spring's premiere location (the Tantramar area of Vesuvius).

The plus? Separate guest/studio.

Ready to just move into & to enjoy! It's like the pages of Coastal Living magazine, come to life. Walk in and stay.


---