June 25, 2017.

Exceptional home, superlative ocean and mountain views, beautiful privacy...here is a WOW property and it's on special Salt Spring Island!



Here is Salt Spring's very best oceanview home and acreage!



Stunningly beautiful home, very fine construction, with authentic homage to the Adirondack design style!



Wood and tile floors, special window treatments, level entry main floor with spacious entry/foyer, lovely bedroom/bathroom off, formal living room, exceptional country kitchen with dining off, walk in pantry, separate mudroom/laundry, and an oh so appealing conservatory space that invites one to contemplate "forever"!



Upper floor, with gallery style hall, open to living and dining below. Floor to ceiling feature stone fireplace adds drama to main living and to expansive upper gallery hall. Master bedroom, ensuite, plus further guest bedroom or master sitting room (your choice!). Office on this level, too...perfect for a professional couple, working from home!

The plus? In character detached double garage, continuing the authentic Adirondack motif.



The plus plus? A sweetheart of a custom designed guest cottage, separately sited on the property, for maximum privacy. B & B? Guest accomodation? So pretty...you will want to stay forever, if you're the lucky guest!

This 34+ acre parcel offers privacy, forest/meadow mix, orchard/garden area (deer fenced), with three beautiful ponds...one like a "baby lake", great for swimming and punting about in a rowboat....enjoy your own hiking/walking trails, too.

The 270 degree view is totally breathtaking...from Vancouver/Sunshine Coast's Lower Mainland mountains, right around to the Olympics (see Mt. Baker & Mt. Rainier from here) ...with all the Canadian Gulf Islands and San Juan Islands stretched out before one...an "immediacy" to the ocean is enjoyed from this parcel...very special, indeed!

In an area of fine homes, close to all services/amenities, and yet serenely "apart", this beauty awaits your pleasure...ready to just move into and to enjoy!

Call me...let's view this soon....


---
June 20, 2017.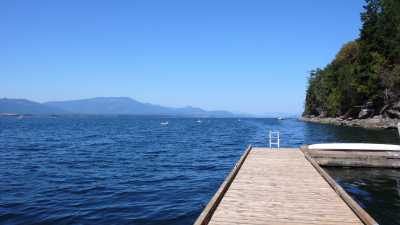 Here it is: Summer-summer! The longest day of the year, the summer solstice, the beginning of school holidays for many...the longed for days of swimming, kayaking, sailing...the kick-back enjoyment and ease of "the season".

Garden fresh produce, farmers markets, patio dining, the sounds of summer off in the distance, the fun of bare feet in sand....

The unexpected cool/rainy Fall, cold/snowy Winter, cool/rainy Spring have had the citizens of the entire Pacific Northwest Coast area craving a make-up "summer-summer" season!

Fingers crossed....

A little star-watching, a little sunset gazing are always good for the soul.


---
June 15, 2017.



This is Canada's 150th birthday...on July 1st, Canada Day.

Across Canada, there have been events and celebrations leading up to this date...and more continuing afterwards...the total celebratory timeline adding up to 150 days.

Salt Spring Island has been showcasing many events, beginning in April. Right around and including July 1st, there are myriad exciting and heart-warming celebrations. Check the Chamber's saltspring tourism site for dates/times.

One initiative: encouraging gardeners to plant flower beds, pots, and baskets with red and white flowers.

As soon as dark enough (longest day of the year on June 21, with dusk now lasting till 10:30 p.m.), there will be fireworks in Ganges Village...see you there!

Happy Birthday, Canada!


---
June 12, 2017.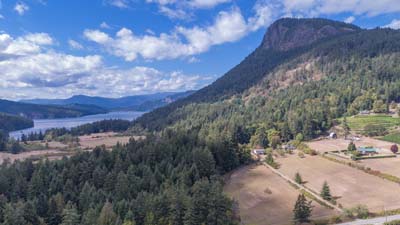 The desire to grow one's own food is once more with us. Even without any background in gardening, many potential buyers are seeking a property with enough arable land to be self-sufficient.

Interesting.

Up until 1930, all of the apples for B.C. were grown on Salt Spring and Mayne Island. There was no Okanagan. This is why you see so many heirloom apple trees on Salt Spring. And three cheers to Harry Burton, who several years ago began Apple Fest on the first Sunday in October. Heirloom apples from Salt Spring are on display at Fulford Hall...300 varieties, at last count.

Today: vineyards, award winning wineries, olive grove farm, orchards (apple, pear, plum, cherry), plus lavender farm, plus cidery, craft brewery, organic hops cultivation. Plus: market gardens, organic produce farms. Plus: cheese maker. Salt Spring Sea Salt is also a local product.

Restaurants, food trucks, coffee/tea stops, home made pasta outlet, locally produced chocolates, gelato...a foodie paradise, indeed.

The Food Network showcased Salt Spring's amazing bounty in a one hour segment...try to catch this on the Internet (Chuck and Danny's Road Trip). We are lucky to be able to live here!

Meantime...if you are seeking a garden-friendly property, please call me. I look forward to meeting you and to helping you to discover your special Salt Spring Island land opportunity.

liread33@gmail.com


---
June 9, 2017.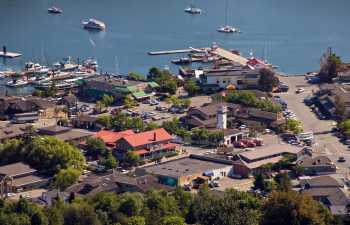 Salt Spring Island offers a year-round lifestyle.

It is an authentic artists community.

I always think that an artistic base in a community leads to a creative population, and an interesting lifestyle for all in the community.

Artists also need the audience...it's a connectivity between the producers of the work and the appreciators of same.

There are writers, musicians, painters, sculptors, actors, fabric artists, potters, ceramicists, photographers...with artist studios throughout the Island (pick up the studio tour map at the Visitors Centre) and with a vibrant gallery scene in Ganges Village (Gallery 8, Steffich Fine Art, Fault Line, Salt Spring Gallery of Fine Art, ArtSpring, Pegasus Gallery of Canadian Art, ArtCraft).

Meander the Village...discover the Island byways...be inspired by the creative vision alive and well on special Salt Spring Island.


---
June 6, 2017.

Oceanfront estate...beauty awaits you!



Looking for tranquility by the sea? Here it is! 4+ "natural" acres, with level land and a gentle slope/easy access to a great beach...swim here, kayak, leave your sailboat at a mooring buoy (seasonal moorage, here)... beachcombing pleasures await.



Lovely forest perimeter (walk your own trails), pasture (keep sheep? a horse?), easy-care landscaping around home...very private. Sunny property, with exceptional ocean/islands/mountain viewscapes...inspiring vistas to rest the soul. Ponds for your pleasure.



The home is an authentic and welcoming "West Coast Contemporary" gem...custom designed and built, and softly updated...all of the design ethic has been retained.



Main level offers open plan dramatic living room, with windows that invite the view to be part of your experience. Country kitchen, dining off...with that same stellar viewscape. Master/ensuite, plus library office in its own upper wing. Guest bed and spa style bath, on level entry...welcoming entry/foyer, here. Garden level enjoys guest bed/bath plus family/media room. Separate access studio/office adjacent...musician? writer? here is your enclave.

Expansive decking, patio areas...easy access to exterior spaces expands those summer living pleasures.

Detached double garage and storage. "Barn"/outbuilding structure, separately sited. Separate workshop. The plus? Terrific guest cottage, also separately sited...perfect for caretaker or guest/inlaw situation.

This beauty invites you to immediately calm...to say "yes!" to the Salt Spring lifestyle.

24 hour notice for viewings.

Enjoy.


---
June 2, 2017.



Seeking an exceptional oceanfront or ocean view acreage, with privacy, superb views, sunny exposure...and proximity to Ganges Village?



Here it is...at the uniquely beautiful Narrows West location.



All parcels are over three acres, thus ensuring the ability to build a main home, a separate guest cottage, and a separate studio.



A mix of topography, natural meadow areas, arable/garden-friendly areas, Arbutus groves, coastal forest....



Adjacent to park reserves (hiking/walking trails at your doorstep). Warm swimming water in this area. Views to inspire!



Waterfront or ocean viewscapes...the choice is yours...magical decisions.

I look forward to showing you this exceptional neighbourhood development.


---