March 2, 2021.

Seeking accessible waterfront with charm, sunny exposures, panoramic views, and with cottage-style home and studio-guest awaiting your ideas? Discover this gem, on very special Salt Spring.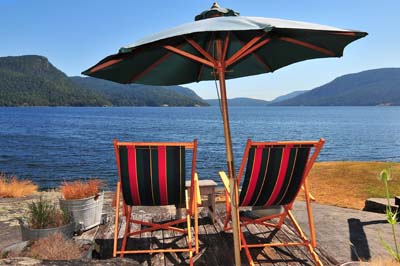 One could be in the south of France here...it's on the shores of beautiful Salt Spring Island. This microclimate that blesses the Southern Gulf Islands, including Salt Spring Island, is known as "cool Mediterranean". This property delivers on that alluring ambiance.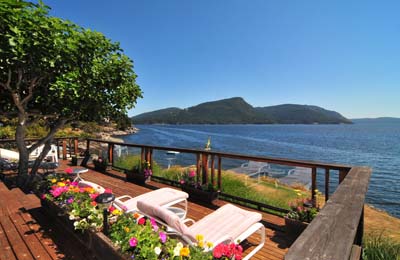 Superlative oceanfront awaits you! Warm ocean swimming here - lowbank sandstone foreshore, private cove! Panoramic ocean & mountain vistas! Exquisite home with true seaside "allure" - lovely "English Country" atmosphere. Easy-care & very appealing garden (deer fenced).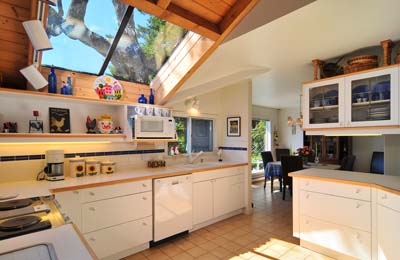 Formal entry/foyer into cosy living room, feature fireplace, spacious country kitchen with dining off (French doors out to patio and very pleasing garden spaces), family room with easy access to expansive oceanside decking), two bedrooms/bath, plus powder room for guests.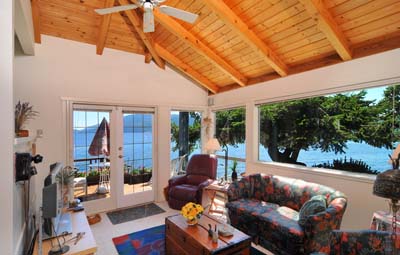 Sunny (S/SW/W - enjoy the sunsets!), private & in Salt Spring's premiere location (the Tantramar area of Vesuvius).

The plus? Separate guest/studio.

Ready to just move into & to enjoy! It's like the pages of Coastal Living magazine, come to life. Walk in and stay.


---
February 26, 2021.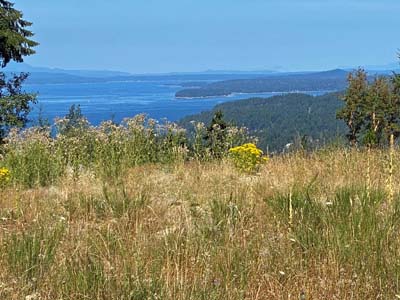 The real estate market became very buoyant as soon as the first closures were over...that first shut-down began on March 12, 2020 and lasted for 10 weeks.

The outcome: a huge desire to seek properties in rural areas...and the ability to work from home, digitally, allowed these buyers to choose anywhere. Throw in extraordinary low interest rates and there's the perfect storm. Almost all buyers in these secondary home/rural regions have been from Vancouver. The city mouse wants to be the country mouse.

Between June 23/20 and now, inventory has become shockingly low. This leads to price increases...and in properties below 1.2, this is strongly underway. This shift from city to rural, from office work to home/online work, is a lifestyle rewrite. A previous lifestyle rewrite time took place after 9-11.

The difference? Owners post 9-11 were willing to become sellers, to cash out as prices rose. That is not the case right now. That faceless potential killer, covid-19, has rural owners wanting to sit tight, unless they "have to" sell.

So: continuing thin inventory. In the past three weeks, we have seen sales take place with 7 to 12 offers on one property...and offers all presented at once. This, in a way, is a manufactured bidding war...and there are dramatic over-ask results. Hmmmm.....

Is this sustainable? As long as the perfect storm conditions are in place, it would seem so.

Meantime, for a buyer on a budget, it could be time to consider buying land. Along with conventional construction, there are new modular designs...instant housing? Time to check into new ideas.....

Looking for property solutions? Call me!

1-250-537-7647

liread33@gmail.com


---
February 23, 2021.

Looking for lovely waterfront? Here are two gems to consider: both are sunny (sw/w/nw exposures...terrific sunsets), both are private and enjoy panoramic views. Accessible waterfront. One has a cottage and a dock in place. The other has a pastoral ambience, awaiting your ideas. Be a part of beautiful Narrows West!

1: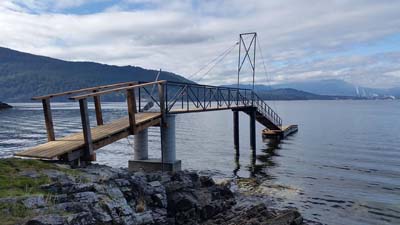 Sophisticated oceanfront cottage on sunny 3.1 acres in wonderful Narrows West.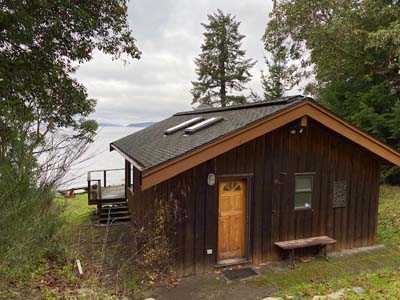 Use as a Summer/Weekend escape for now and build your dream home later.



On a point of land with opportunity to put in a dock. Panoramic views, warm ocean swimming, sunsets.

A private driveway leads to your special place - ready to enjoy!

2:



Exceptional oceanfront 3 acres in Narrows West. Enjoy lovely views. Property awaits your dream home.



Always dreamed of a lowbank oceanfront with sunny privacy and dramatic panoramic vistas? Here it is!

Create your dream home in the superb Narrows West development. Sunsets forever!


---
February 19, 2021.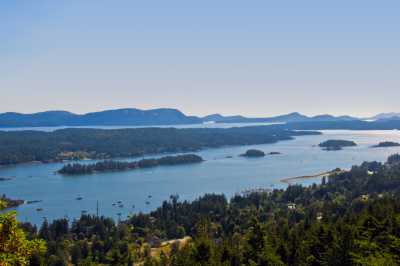 All the Gulf Islands are part of a provincial government body known as the Islands Trust, and it has been in place since 1974. The Trust's mandate was to "preserve and protect" the environmental beauties of the Gulf Islands for the benefit of B.C. residents. Growth was controlled via strict zonings/bylaws.

There will always be a limited inventory of available properties on the Gulf Islands, including on Salt Spring, due to these severe restrictions on growth. This is beyond market trends of supply and demand.

One can find the overall Trust documents on the internet, and the few items specific to each island will also be there. Before a Gulf Islands purchase, it is wise to look over the Trust requirements (the overall view and the specific items for the particular island one might be considering). Change to any bylaws or zonings is not easy...and might be impossible. Be informed!

The Southern Gulf Islands (Galiano, Mayne, Saturna, Pender, Salt Spring) enjoy a micro-climate known as "cool Mediterranean". These gems support orchards, vineyards, wineries, cideries, craft breweries. Organic small farms happily exist, and some export food to Vancouver specialty outlets. All of the islands have a vibrant Arts scene.

The Southern Gulf Islands are also part of the CRD (Capital Regional District), out of Victoria. One elected CRD representative for Galiano, Mayne, Saturna, Pender and another for Salt Spring.

The islands are unincorporated, and the form of governance is: two Trustees per island and a CRD Director (they are elected at the civic election timeline...four year terms).

Many of the things that are enjoyed on Salt Spring have been created by volunteers...both fundraising and execution: ArtSpring, indoor pool, pathways, library, and so forth.

The Gulf Islands/Salt Spring Island are delectable places to call home...as a permanent resident or as a vacationer (for now).

Seeking to find your special Island property? Call me!

Your best interests are always my motivation.

1-250-537-7647

liread33@gmail.com


---
February 16, 2021.

Seeking an investment property on Salt Spring Island? Here are four potentials...two view acreages, one with new cottage in place, plus a sunny lakefront private lot, plus an in-town opportunity to develop as Ganges grows. Call me!

1:



Ocean view 14.6 acres in beautiful Skywater! Views of ocean, mountains and islands.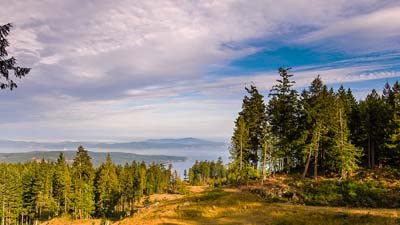 Zoned for main house, guest cottage, and guest studio.



Drilled well, driveway, and building site in place.

The address of your new dream home!

2:



Live and create your home-based business in Ganges on special Salt Spring Island! Many options for the discerning buyer with this one-level 2 bed / 1 bath home.



Consult Islands Trust about possible commercial zoning change from the present R6. Property is sited within the Ganges Village core area. A half-acre lot, on community water & sanitary sewer.

Walk to all town amenities: marina, pool, theatre, shopping, library, schools. Great opportunity for central intown location with potential.

3:



Seeking a beautiful lakefront lot? With sunrises and sunsets...all day light, year-round...and with calm privacy? Here it is, on the shores of St Mary Lake, on lovely Salt Spring Island.



This is the last good undeveloped lakefront parcel on this serene lake.



Arable land (fenced veggie garden can be brought back), with a pleasing meadow area at lake's edge, with gently sloping land and more than one possible building site. Clear out the blackberries and rediscover this land parcel.

Let's go explore...this is a find!

4:



Here is a dream cottage on a 4.717 acre privately sited property, with spectacular panoramic ocean, islands, mountain views...mere minutes to services/amenities of Ganges Village...close to golf and indoor pool...to beach and to hiking/walking trails.



This gem is part of the prestigious Narrows West development...zoned for main home, separate guest cottage, studio. Enjoy this stylish cottage retreat immediately and consider concepts for your main home design later.



Open plan, vaulted ceiling, with custom windows that invite the view. Unique design features to please. Ask about the common property opportunities.

Ready to enjoy!


---
February 14, 2021.



Valentine's Day.

No matter where we find ourselves, it's always good to treat yourself and those closest to you, to some Valentine wishes!

It's always appropriate to let people know we appreciate them!

On your own at this covid-closure time? Create your special dinner, light some candles, practice the art of gratitude.

Oh, yes, and dust off a tried and true romantic film...how about "Moonstruck"? Enjoy!


---
February 11, 2021.



So, tomorrow is the Asian Lunar New Year...we go from the Year of the Rat into the Year of the Ox.

A Rat year is full of inventions, turmoil, unexpected change, upheaval, creativity. After the 2020 pandemic sliced through the lives of all citizens, in all countries, on a global scale, there have been huge changes...mainly of a digital nature.

Perhaps the Year of the Ox will be about digesting the profound shifts that the Rat delivered to us. The image of an Ox is a stance of stability...it holds strong and firm. It is about endeavour.

A little calming of the troubled waters of 2020? Works for me!

In B.C., the provincial government has extended its ban on gatherings, and has extended its stay home/essential travel only edict. This affects all secondary home regions, with their emphasis on tourism as an economic mainstay.

Federally, the U.S./Canada border remains closed to all but essential services. The pandemic continues its destructive path. The delivery times and amounts of vaccine have both been lessened for Canada. The "new normal" of uncertainty continues.

This weekend is on the February calendar as Family Day Holiday...everyone is encouraged to stay close to home, to stay in one's "bubble". The same is being required for March Break. B.C.'s provincial health doctor is suggesting that summer may see a return to a more normal time.

Meantime, the stalwart hard-working Ox image is ready to welcome us to the Lunar New Year. Time to plod on......


---
February 8, 2021.

Beautiful oceanfront home...architect designed gem at Salt Spring's special "south end". Step-in ready...enjoy!



Sophisticated living beside the sea...in prestigious Reginald Hill, at Salt Spring's special "south end". Ready to move into and to immediately enjoy.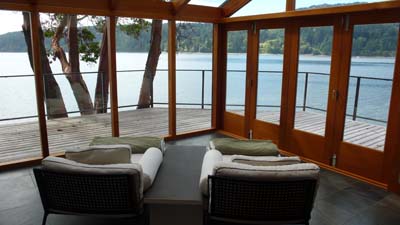 A Schubart design with a recent and very fine renovation...absolutely stunning...panoramic views of ocean/islands/mountains...sunsets to inspire. (S/SW/W exposures).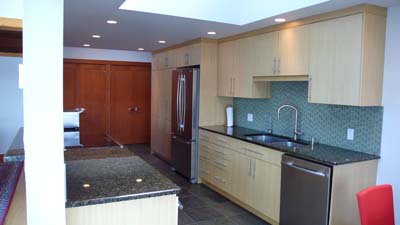 A baby point of land with further land on Reginald Hill itself. Lovely cove...perfect for a kayaker. Hike your own trails, walk to Fulford Village, close to ferry to Victoria, and just minutes to Ganges Village.



Formal entry/foyer, great room concept with vaulted ceiling, cook's dream kitchen, dining with a view, solarium poised above the cove...like living on a boat...endless views.

Guest bed/bath, plus laundry/mudroom, and master/ensuite complete the level entry main floor. Upper level offers library/gallery and ocean view bed/bath.

Separate garage, easy access to private cove, storage for kayaks.

A beautiful home...flair!


---
February 5, 2021.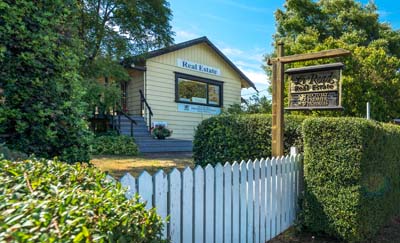 Annual awards in real estate are an important industry acknowledgement of excellence in customer service. These awards are specific to the year they are given.

There are 10 real estate boards in B.C., and approximately 25,594 licenced realtors. The Vancouver Board is the oldest and the largest of these boards. Approximately 12,500 realtors are members of the Vancouver Board.

Sea to Sky Premier Properties is pleased to congratulate Li Read in achieving the Medallion Award in 2020.

The Medallion Award is given to the top 10% of agents in the Vancouver Board. Li Read placed 559 in sales out of the 12,500 realtors affiliated with the Board. All Li's sales were accomplished on Salt Spring Island.

Benefit from Li Read's expertise, experience, and knowledge. Be informed about the changes to the Real Estate Services Act of B.C.

If you are thinking of selling, contact Li Read for award winning service. Successfully connecting sellers with buyers since 1989, "See Li for Successful Solutions" is Li Read's promise to her clients.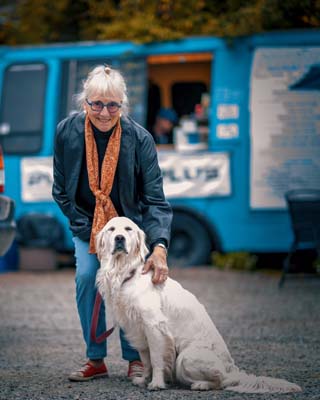 ---
February 2, 2021.

Step-in ready custom new home...enjoy your next adventure...on special Salt Spring Island!



Opportunity!



A new home, purpose designed for this lovely small acreage (lot 22, Spring Gold Way). Views over St Mary Lake, Salt Spring fields and forest, towards the dramatic Lower Mainland mountains.



Sunny exposures (e/s/w). Excellent drilled well, new septic, park reserve on one side-line for privacy...paved road to your private driveway. Mainly level, easy to landscape/garden to your wishes.



3 bed / 3 bath, dramatic living, stone fireplace, entertainment dining, great kitchen (appliance package), sep. laundry, attached double garage. A Wow! Close to all of Ganges Village amenities (schools, indoor pool, shopping, galleries, library, ArtSpring theatre centre, restaurants and also to golf & marinas...also close to hospital). Close to park hiking/walking trails.

Sleek design, lovely finishes,ready to enjoy!



Check this one out....a definite "best buy".


---