March 19, 2019.




As a realtor, I take continuing education courses and receive industry publications.

A recent real estate oriented national online magazine published an alert to real estate agents, property management companies, building inspectors, etc.

It was a warning that such professionals could be affected by fentanyl debris in a space.

First responders to a drug overdose (police, paramedics) had earlier discovered the deadly outcome of secondary fentanyl exposure.

The online article outlined that inadvertently disturbing a tiny amount of inert fentanyl (a dust, a tiny dot) could cause death to the disturber...by inhaling the dust or in the casual touch of a counter-top which would allow the merest amount of fentanyl to go through one's skin. The person so affected might not even have seen the tiny amount of the drug left there.

This is an unexpected hazard for professionals other than the immediate first responders called to an overdose event. The online article outlined the reactions to such secondary fentanyl exposure...speed of help is essential. Fentanyl exposure can shut down the body and can result in death.

It's essential that realtors, property managers, inspectors, measuring companies, etc are aware of this potential hazard...and that they pay attention to customers viewing properties with them. Any sudden symptoms need to be immediately addressed.

The fentanyl epidemic is not just about those who suffer from addiction. Anyone in contact with where those so addicted live could be afflicted with secondary exposure.

Along with knowledge of the real estate industry in general, a realtor and a property manager now need to practice further vigilance when entering a home or a cottage for showing purposes.

So, as a real estate practitioner, it is no longer enough to understand the rules of the B.C. Real Estate Services Act, or of Board protocols, or of repercussions of the PropTech online realty companies on regional real estate, or.... It is now also essential to pay attention to the fentanyl epidemic's outcomes in housing.

Hmmmm.....


---
March 15, 2019.

Have boat? Will travel? Discover this authentic retreat oceanfront property on beautiful Lasqueti Island.

Located mid-way in Georgia Strait, between Parksville/Qualicum & French Creek, on Vancouver Island, and Secret Cove on the Sunshine Coast, this Island enjoys the serenity of a true retreat destination. A water taxi ferry service from French Creek is also available. Here is your next adventure.



1.8 private acres on beautiful Spring Bay, Lasqueti Island. Southwest exposure with expansive ocean views & spectacular, magical sunsets!



Two enchanting cottages filled with character, charm & artistic design promise to delight! The main home,'the Blue Cabin', was constructed with an extensive use of glass for serene, picturesque ocean views thru the trees, across Spring Bay to the Fegan Islands & beyond.



A main floor living room, kitchen, whimsical, glass turret dining room & master bedroom with ensuite include a walk in tiled shower. An iron & wood spiral staircase to the 2nd floor opens to an expansive family room & office area, a tiny child's reading/sleeping nook & a 2nd bedroom.



The 2nd cottage, 'the Green Cabin', has a main floor kitchen/living room, bathroom with rustic log ladder/steps up to a loft bedroom above.

Most of the waterfront is high bank with access down a pathway of cedar steps & driftwood railings that steps onto a magnificent sandstone shelf beach.


---
March 12, 2019.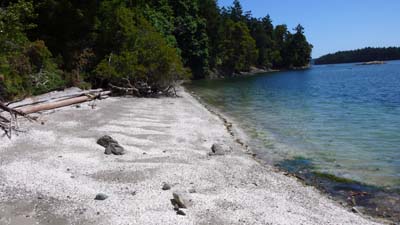 Mid-March whispers the song of spring-into-summer.

Early Daylight Saving Time encourages longer days to extend even further, the annual Home & Garden Show on Salt Spring makes us want to spruce up our properties, the clean-up the Island committees are getting ready for Earth Day events in April, and we catch every sunny day to unfurl with the season.

Yes, there are still days that hark back to this past harsh winter...but there are many other days, on a beach, observing light dancing on water, protected from any wind, that remind us of the pleasures of summer.

Hold that thought! Catch those moments when you can. March is the hiatus between seasons. Needing to be practical? Clean the windows...invite light in.

March means it's time to dust off the hiking shoes...when did you last meander Ruckle Park?

Take time to remember why you arrived on Salt Spring...and take time in still stripped down March to observe the Island before "real Spring" erupts around us.

Meantime...enjoy your special beach choice and dream your dream of summer...it's waiting in the wings.


---
March 8, 2019.

Always wanted to have a stylish B&B in a preferred country location? Here it is! It's ready to enjoy.



Seeking a stylish country home, in a pleasing rural valley, mere minutes to all services/amenities in Ganges Village? Ready for you to move in and to enjoy the Salt Spring lifestyle?



Here is the very best pastoral property, ready for your discovery and enjoyment.



Dramatic great room concept: spacious living, feature stone fireplace, entertainment dining, cook's dream kitchen...easy access to patio areas...large mudroom/laundry area, formal entry/foyer, private master/ensuite, guest bed and full bath.



This floorplan would be highly suitable for a professional couple working from home.

Lovely valley and mountain views...all day sun exposures, sunset vistas. The plus? Double garage, plus garden delights (including feature pond), orchard, fenced veggie garden, outbuildings.

Great rural neighbourhood...be a part of this special area.

Let's view today!


---
March 5, 2019.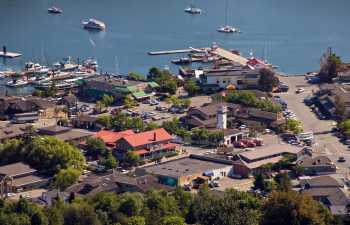 Ganges Village has been described by the Trust (in a 1980s information piece) as the "heart" of Salt Spring.

Change is always a concept that has limits on any Gulf Island.

The "preserve and protect" mandate of the Trust, at its inception in 1974, ensured that growth would be curtailed on the Gulf Islands. This has been accomplished via strict zoning/density controls.

For Ganges Village, it is about no expansion beyond its designated boundaries.

What about within those zoned/designated boundaries? Is change possible?

A renewed downtown, in all kinds of communities, occurs when people also live there.

Conventional retail centres post-Internet have become empty storefronts and empty office spaces...this is also the case on Salt Spring.

To create work/rental options for vacant storefronts, and to turn upper level empty offices into rental accommodation options, would immediately create a vibrant Ganges core. People living in the core would help neutralize any night time vandalism issues.

To do this would mean that the North Salt Spring Water District (NSSWD) volunteers would have to ease their water moratorium (in place since 2015).

There is no lack of water on Salt Spring...there might be a capture and distribution problem. There are solutions for this.

Water is an Improvement District item...under the provincial government's jurisdiction. The government has put Improvement Districts onto municipalities. Salt Spring is not a municipality.

The CRD (Capital Regional District) could take over the volunteer local water board and address the moratorium. Or, the NSSWD could ease their imposed restrictions, on a one to one basis, to allow the Ganges core to offer living spaces. New technology could ensure very little increase in water useage for new connections in Ganges.

Affordable housing/work rental projects (permitted and funded) on Salt Spring cannot go forward because of this artificial water moratorium. Ganges Village cannot offer work/rental redevelopment because of this blanket water moratorium.

Time to ask the NSSWD to address the issue they created? I think so. This volunteer board needs to listen to the serious needs of Islanders and to consider appropriate new connections to the water system.


---
March 2, 2019.

Opportunity! Own the very best waterfront lot on Chesterman's Beach, in Tofino. Very rare offering...a summer cottage from the 1980s...an untouched palette for your development ideas. Great investment property. A WOW!



The Perfect Beach

Well, it's Chesterman's Beach, on the spectacular west coast of Vancouver Island...of course!



This baby point of land, at mid-point along this amazing beach, has been enjoyed by the same family since the 1970s...yes, there is a hand-hewn summer/weekender retreat home on the property, which has mainly been a rental option in past years, but the value is in the location, the sun exposure, the privacy, the topography, the natural scape, as this land has not been "developed" with someone else's ideas...this beauty awaits your pleasure!



A property to savour...a vista to inspire...a beach to both energize & to soothe the soul.



Arrive by private jet, or regular flight (airport near Tofino). Come in by floatplane, into Tofino's Harbour. A drive through Vancouver Island's unspoiled "middle" delivers you to this majestic west coast lifestyle...a two hour drive through this scenic wonderland connects Vancouver Island's east & west coasts.

Don't delay...when this is gone, there isn't another one like it...totally unique & very alluring.

Family retreat, corporate get-away, private enclave just for you? You decide!

A WOW, waiting for your discovery....


---