September 23, 2018.

A perfect retirement/weekender get-away...or continue to rent to excellent tenant, until you are ready to build your dream.)



Very pretty, private and sunny 0.73 acre on corner of Churchill Road & Madrona Drive! Just steps to terrific beach access (see photos)!



Cottage/home gets some sea glimpses, offers 2 bedroom / 1 bath on main level plus another bedroom and bathroom on the lower (daylight) level.



On community water in area of quality homes! A great opportunity for summer/weekender use, now, a superb building lot for your retirement dream, later!



Don't delay on this gem!


---
September 19, 2018.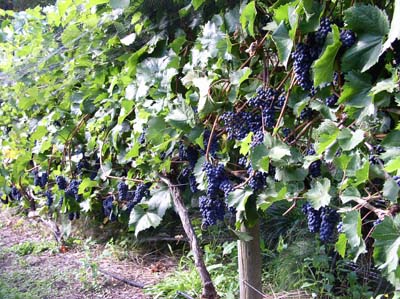 Tomorrow officially begins Fall...the calendar says so. Most of us still think that Labour Day Weekend is the divide between summer/fall. Harvest time is the image of Fall's season.

Salt Spring is a seasonless experience in the sense that there is always something happening, something to enjoy...one can visit anytime and be able to savour the Island lifestyle.

It's always fun to be a tourist in one's own backyard. When did you last enjoy Ruckle Park? Or picnic at Drummond Children's Park? Or walk out Fernwood Dock and watch the tide currents in Trincomali Channel? Or do the studio tour? Or treat yourself to lunch at Rock Salt, or Treehouse, or Fernwood Cafe, or Auntie Pesto's, or Salt Spring Inn? Or meander the Ganges Village galleries? Or savour the view from Mt Maxwell? Or enjoy a performance at ArtSpring?

Time to get out and about at this illuminating time of year.

Fall: the Romantic poet John Keats may have said it best..."Season of mists and mellow fruitfulness".


---
September 16, 2018.

The very best ocean view estate acreage on Salt Spring Island...serenity and privacy. Discover....



Here is Salt Spring's very best oceanview home and acreage!

Stunningly beautiful home, very fine construction, with authentic homage to the Adirondack design style!



Wood and tile floors, special window treatments, level entry main floor with spacious entry/foyer, lovely bedroom/bathroom off, formal living room, exceptional country kitchen with dining off, walk in pantry, separate mudroom/laundry, and an oh so appealing conservatory space that invites one to contemplate "forever"!



Upper floor, with gallery style hall, open to living and dining below. Floor to ceiling feature stone fireplace adds drama to main living and to expansive upper gallery hall. Master bedroom, ensuite, plus further guest bedroom or master sitting room (your choice!). Office on this level, too...perfect for a professional couple, working from home!

The plus? In character detached single garage, continuing the authentic Adirondack motif.



The plus plus? A sweetheart of a custom designed guest cottage, separately sited on the property, for maximum privacy. B & B? Guest accomodation? So pretty...you will want to stay forever, if you're the lucky guest!

This 34+ acre parcel offers privacy, forest/meadow mix, orchard/garden area (deer fenced), with three beautiful ponds...one like a "baby lake", great for swimming and punting about in a rowboat....enjoy your own hiking/walking trails, too.

The 270 degree view is totally breathtaking...from Vancouver/Sunshine Coast's Lower Mainland mountains, right around to the Olympics (see Mt. Baker & Mt. Rainier from here) ...with all the Canadian Gulf Islands and San Juan Islands stretched out before one...an "immediacy" to the ocean is enjoyed from this parcel...very special, indeed!

In an area of fine homes, close to all services/amenities, and yet serenely "apart", this beauty awaits your pleasure...ready to just move into and to enjoy!

Call me...let's view this soon....


---
September 13, 2018.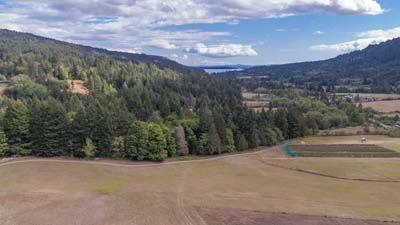 September means Fall Fair time on Salt Spring. On 15th & 16th, at Farmers Institute, on Rainbow Road. This is a terrific way to meet the "old Salt Spring", with its rural heritage. Each day is quite different...make a weekend of it!

Mark your calendars, too, for October's Sip & Savour event...a showcase of local farmers, chefs turning local produce into yummy specialties, and tastings of local wines, ciders, craft beers, spirits. This is the best introduction to the varied agricultural community! (October 20, between 1 & 4, at Farmer's Institute).

Tuesday Farmers Market in Centennial Park...plus, the Saturday Market goes on till end of October.

Farmgate stands, the Agricultural Alliance's birthday bash" celebration in November...a fundraiser feast based on local ingredients/local chef...plus the annual Apple Fest on first Sunday in October.

Wine tastings at our award-winning wineries. Check out the olive grove!

How lucky we are, on special Salt Spring Island, to enjoy this rich foodie environment. Enjoy this Harvest Season.


---
September 10, 2018.

Here's a terrific waterfront get-away, with brand new dock. Ready to enjoy!



Seeking a stellar dock for your yacht? Desiring a perfect get-away home, nestled at the seashore? With sunny (s/SW/w) exposures and lovely privacy?

Here it is, on .97 of an acre, on prestigious Scott Point.



The plus? A single wide mobile, currently tenanted, set apart from main home, with ocean view. This legally non-conforming structure allows for separate guest accommodation. There's also a double garage.



Sunny and expansive ocean side decking encourages summer living pleasures. Recently upgraded, this 2-3 bed/2 bath home enjoys the ethic admired in Coastal Living magazine.



One day, you plan to build your dream home? Lots of opportunity here, to reconfigure this lovely land.

Call for an appointment to view.


---
September 6, 2018.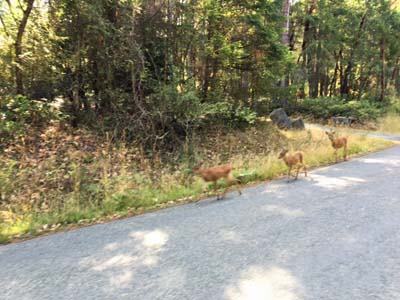 On Salt Spring, we share our delectable island with other species...interesting that these deer know to walk on the road edge, in single-file!

Eagles, herons, gulls, raccoons, hares, deer, myriad birds, geese (who are practicing V formations right now, readying for the flight south)...we are surrounded by the natural world here, and perhaps often take it for granted.

Along with this lovely surround sound of natural beauty, though, there are 21st Century issues facing Salt Spring. Both lack of affordable housing and few work rental opportunities are issues in all coastal communities and Salt Spring is also affected. In this civic election time, this housing crisis is a key item for Salt Springers.

In 1974, the then provincial government put in place the Islands Trust. The mandate of this government created and administered body: to preserve and protect the environmental beauties of the Gulf Islands, for the benefit of all B.C. residents. Growth was curtailed through strict zoning/bylaws.

By essentially capping growth, the Trust ensured that the Gulf Islands would eventually arrive at a time when properties would escalate in price.

Sellers and realtors do not create real estate markets...buyers do that. If buyers seek places such as Salt Spring, to live or to invest in, and the government has created a preservation model with limited inventory, due to the Trust's cap on growth, then there is no appetite for a balanced economy. Lack of inventory plus strong buyer desire result in price escalation over time...the classic supply and demand scenario.

The two trustees (elected per Island, at the civic election time) and the CRD elected director are the form of governance on Salt Spring. In September, 2017, the referendum about a Gulf Islands style of municipality (this is in place on Bowen Island) was defeated. Approximately 63% of Salt Springers voted to retain the 1974 model, unchanged. The planners at the Trust and the staff at CRD continue to run the Island...the elected representatives are perhaps best seen as figurehead/interpretive roles.

So...what about affordable housing? Work rental? Apparently there are four such initiatives ready to go...except for the water moratorium prohibiting new connections. This falls under Improvement Districts jurisdiction and so neither the Trust nor the CRD can deal with this outstanding (since 2015) roadblock.

A short-term visible decision to be proactive (not complaint driven/reactive), by the Trust, on the matter of vacation rentals, will not solve the problem of affordability or of lack of work rentals. Both vacation spaces and year round accommodation choices need to be in place. Someone doing airb&b is unlikely to rent to a regular tenant. Hmmm....

Two different groups, both created after the referendum, are seeking solutions to issues that the current 1974 documents did not address. The point of the referendum has become clear, and these two groups are trying to figure out how to make changes within the existing system. Hmmm....

So...an important civic election coming up in October. Be informed. Be sure to vote. Think about Salt Spring five years out.

By the way, were the line-ups for the Vesuvius-Crofton route partly caused by people commuting to work on Salt Spring, but living in Cowichan? If so, is this the 2018 outcome of the 1974 creation of a resort based/recreational region? Lots of questions.

Answers? Important time for Salt Spring's continued allure.


---
September 2, 2018.

Here is an opportunity to create your dream home on special Salt Spring Island...waterfronts, oceanviews, cottage ready to enjoy, architect designed waterfront home to step right into...discover Narrows West. Your next address!



Exceptional oceanfront 2.99 acres in Narrows West. Enjoy lovely views.

Wide angle panoramic views, easy access waterfront, forest & meadow mix. Sunny!

Warm ocean swimming in this area.

Property awaits your dream home.



Exceptional oceanfront 2.99 acres in Narrows West. Enjoy lovely views. Property awaits your dream home.

Always dreamed of a lowbank oceanfront with sunny privacy and dramatic panoramic vistas? Here it is!

Create your dream home in the superb Narrows West development. Sunsets forever!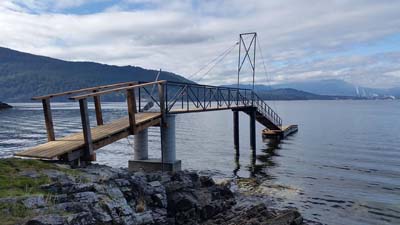 Sophisticated oceanfront cottage on sunny 3+ acres in wonderful Narrows West.

Use as a Summer/Weekend escape for now and build your dream home later.

On a point of land with opportunity to put in a dock. Panoramic views, warm ocean swimming, sunsets.

A private driveway leads to your special place - ready to enjoy!



A seaside classic home awaits your pleasure...dramatic ocean view panorama to inspire.

Cook's dream kitchen, formal dining, spacious living, feature fireplace, master wing, beautifully appointed guest bedrooms, spa style bathrooms, recreational space...all with terrific ocean and mountain vistas.

Easy access to expansive decking...easy-care landscaping...sunny and private acreage (S/SW/W exposures)...dramatic sunsets!

Separate double garage for those classic cars! Separate indoor pool.

A lifestyle that offers rural sophistication...ready to enjoy.

Easy to show.



Exceptional oceanfront 15 acres await your dream home. Sunny property.

Rest of property (approx. 153+ acres) is nature preserve. Privacy is assured!

A very temperate micro climate in this area of Salt Spring - Manzanitas happily grow here.

If you've been searching for something special, here it is. Call & lets explore this unique oceanfront acreage.



Oceanfront cabin on sunny 4.098 acres in wonderful Narrows West.

Use as a city summer escape. Build your dream home.

This gem does offer arable potential, if gardens are your thing.

Vistas down Sansum Narrows to Maple Bay & also out to Stuart Channel.

Bring your architect and lets work this one soon.

Estate potential!



Seeking an exceptional ocean view acreage, with sunset splendour, and close to great beach access and to hiking/walking trails?

Here is a beautifully presented 3.286 acre parcel, drilled well developed, driveway roughed in to potential building sites. Zoned for main home, separate guest cottage, and separate studio.

Be a part of Narrows West, a premier oceanfront and Oceanview property development. Sunny privacy...create your dream home here.


---