February 18, 2020.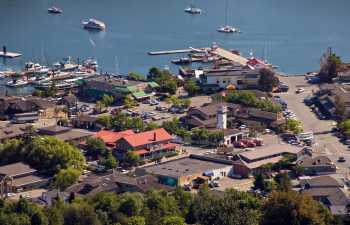 Did you know? Ganges Village boundaries are "fixed"...there is no development sprawl.

The Islands Trust, a provincial government body created in 1974, with a mandate "to preserve and protect" the environmental beauties of the Gulf Islands, for the benefit of all B.C. residents, controlled growth on the Gulf Islands via strict zoning bylaws.

On Salt Spring, the perimeters of Ganges Village are fixed via these strict zoning measures. The Trust, in the early 1980s, printed an information brochure that highlighted Ganges Village as the "heart" of the Island...and focused commercial options in the Village.

When the sewer for Ganges was finally approved (took 12 years of "conversation" before this occurred), it allowed construction within the Village envelope. Grace Point Square centre, plus Grace Point townhomes, were built out in the early 1990s. Six of the other townhome sites were also built out in the 1990s. These townhome developments (8 in total) were all approved by the Trust, in the 1970s, but could not be built until the sewer was approved.

The sewer approval also allowed for redevelopment of old buildings, and so Creekhouse and Creekside developments were created, and both Harbourside (formerly Gasoline Alley) and the corner of McPhillips and Lower Ganges Road were also redeveloped. Same with the area owned by Mouat's (including Thrifty's building).

Most of the changes occurred in the 1990s. The "look" of Ganges Village has remained pretty constant since then, with some individual properties seeing upgrades to existing buildings.

There are always game-changers and the 2000s saw the increasing impact of online shopping for retail locations everywhere. Is this a time for some creative thinking by both the Trust and the CRD (our form of governance, in our rural non-municipal area)?

What about allowing rental condo living in vacant upper-level office spaces? Home occupations are allowed on Salt Spring and many offices are on residential properties (legal, medical, etc)....the need for specific Ganges offices is no longer there. What about allowing work-rental in storefront locations (live behind/retail with street presence)? Such "living in the core" would encourage a lively Village ambiance.

And your thoughts are? Always welcome! The quest is to maintain Salt Spring's quirky and creative vibe...in the face of online competition. Hmmm.....


---
February 14, 2020.

Beautiful west coast contemporary (H. Schubart design) home, on spectacular oceanfront lot, awaits your pleasure...located in prestigious Maracaibo, on Salt Spring Island.



Seeking an architect-designed and custom built authentic "west coast contemporary" home, on a sunny Southern Gulf Island? Here is a serene and beautiful H. Schubart designed home, on a private oceanfront property, located in prestigious Maracaibo...and it's on special Salt Spring Island.



Maracaibo offers approximately 250 acres of forest preserve, with approximately 9 miles of hiking/walking trails. Ownership in Maracaibo offers all owners a share in this preserve, plus access to guest cottages, dock for the yacht, a separate dinghy dock, a saltwater swimming lagoon, seminar space...a lovely natural lifestyle experience is assured here.



The home is an exceptional rendition of H. Schubart's design flair. Hank Schubart studied with Frank Lloyd Wright and moved to Salt Spring from San Francisco...lucky Salt Spring!



H. Schubart understood the importance of siting on a property, for maximum sun exposure and privacy...and the value of preserving natural land formations to create that alluring meshing of interior/exterior spaces.

The home offers a spacious living room, feature fireplace, entertainment dining off, and both ocean and garden views. A guest entry/foyer introduces this space to one's arrival experience. A pocket door from dining introduces the kitchen and "great room" family-oriented area. A gentle winding path, through arbutus and natural foliage, delivers one at this more formal entrance.

One can also enter the home via a foyer off a courtyard, with entry from double garage/workshop with guest/studio (self-sufficient guest accommodation) attached.

This secondary entry, perhaps most often used by owners, arrives at a spacious family room with Woodstove, with a small library off, and a separate laundry off, plus a family dining connected to the kitchen. Easy access to a classic sunsplashed deck that runs the length of the home invites one to be a part of the ocean experience...with sunny s/SW/w exposures.

A bedroom wing, adjacent to the "great room" area, offers lovely master-sitting with large ensuite bathroom, plus spacious guest bedroom and guest bath. Again...ocean views and natural landscaping spaces to inspire these areas.

Forest, a meadow, ocean, decking, patio...privacy.

The home is one of Schubart's most dynamic designs and has been lovingly restored/updated by current owners, while still retaining the architect's ethic.

An exciting home, in a sought-after neighbourhood, on Salt Spring Island. Let's view soon! 48 hr notice requested, for viewings.

Your next adventure awaits your discovery, on beautiful Salt Spring Island.


---
February 10, 2020.



This coming weekend is the mid-February "Family Holiday Weekend"....Salt Spring and the Southern Gulf Islands welcome visitors at all times of the year. Seeking serenity, with an artistic flair? Time to experience the Gulf Islands.

Early Spring is "wake up" time. Lots to discover and to enjoy and to be inspired by.

Thinking of living on Salt Spring...not just enjoying the visitor experience? Call me! Benefit from my knowledge, expertise, and negotiating skills. Yes, inventory is low...but there are always opportunities. Let's explore your options.

Days are lengthening rapidly...whispers of "real Spring" are all around us...and it doesn't hurt to dream a little about summer-summer.

Enjoy your February Family Day holiday break!


---
February 7, 2020.

Serenely beautiful lakefront home awaits your pleasure...ready to immediately enjoy!



Seeking a lakefront home? With dramatic sunset views, easy-care landscaping that frames the beautiful home, and with a pastoral and forest surround? Here it is, on special Salt Spring Island! Sunny privacy, located in an alluring part of St Mary Lake, with a home to match the location.



Main level enjoys spacious entry/foyer, leading to formal living (feature fireplace), formal dining (lake views!), plus to a "great room" concept: gourmet kitchen, family dining area, library/den (feature fireplace). Powder room off. Designated office off. Mud room entry and laundry off. Access to generous double garage/workshop. Separate wood storage close to garage.



Upper level, reached by staircase from entry/foyer, offers master-sitting with ensuite and walk-in closet, plus three further guest rooms and full bath. Lake and garden views inspire.



A daylight "partial basement", for storage, and also the water connections (water lease from the lake is in place).

Beautiful decking, patio spaces, reflecting pond, terraced garden (irrigation system in place) leading to the lakeshore, to a boathouse/storage, and to a dock. Summer pleasures await! Gated entrance...deer fencing in place.

Wood floors, custom window treatments, easy access to decking and patios from all principal rooms.

A very beautiful home, awaiting your discovery. Your Salt Spring lifestyle awaits.


---
February 2, 2020.



February continues the lengthening days, and is a month of both whispers of early spring and also of reminders that winter is officially still in place.

Economic conferences are still on offer...good to attend them as part of keeping up with changes. 2020 is not just business as usual.

On Salt Spring in February? Seedy Saturday weekend, showcase receptions at Ganges galleries, live music at Moby's and at Legion (Meaden Hall), special events at ArtSpring, sailing club races continue on Sunday afternoons, hiking/walking trails beckon, skiing at Mt Washington, day-trips to Victoria, to Cowichan, & to storm-watching at Tofino, city pleasures in Vancouver...easy peasy to go places and always a pleasure to return to Salt Spring. Interesting, too, to choose a different Gulf Island, for a day trip adventure...it's called "Experience the Southern Gulf Islands". Discover our "sister islands".

February: a time to spring-clean, pick up the fitness routine, to enjoy the Family Day holiday weekend, to emerge from winter's cocoon. In the middle, it's Valentine's Day...our special restaurants offer delicious menus. Romance is alive and well on special Salt Spring Island.

February? Spring is nigh.....say hello.


---