May 29, 2020.

Seeking an investment buy on special Salt Spring Island? Consider these well priced property opportunities....hold for later or build your dream retreat now.

Semi-waterfront:



Here is a rural semi-oceanfront opportunity on the tranquil east side of special Salt Spring Island! A lovely open and sunny 1.22 acre parcel (year round!), with a generous amount of land on the oceanside - main house site on the upside portion.



Panoramic views, lovely walk-on beach at low tide, and you can keep your boat on a mooring buoy (seasonal moorage), if desired.

A great opportunity!

Ocean view acreage:



This sunny 40 + acre parcel retains its natural ambiance...natural meadow areas, coastal forest plus arbutus and garry oak, with dramatic ocean and mountain views.



Driveway access to property, and then lovely walking/hiking trails through the property. Sunny (s/sw/w exposures) & private...an estate waiting for your ideas.

Drilled well in place. Bring your architect and let's walk this one soon.

Arable acreage, sunny privacy:



17 Acres plus approximately 8 acres in two additional parcels as described below. The driveway to this property leaves Skywater Drive heading north through a valley between two wetlands up a southerly slope passing between two large rock outcrops to the recommended building site that overlooks a year round pond.



This parcel of land commands your attention ... sharing a X mile boundary with an expansive little used 80 acre park reserve, offering hiking / walking trails for your pleasure and total privacy. The land is partially treed with the main slope facing south west for maximum sunlight. Lot 23 could be developed into a very private retreat to enjoy with an elevated building site overlooking the year round pond and magnificent terrain .... trails, paths and waterways meander across the property and the 80 acre park reserve among large cedar and fir trees and much more, for your pleasure.

Lot 23 also enjoys the exclusive use of the Limited Common Property shown on the Property Map in yellow. This property is owned by the Skywater Strata but its exclusive use is limited to the registered owner of Lot 23.

The smaller, approximately one acre, parcel (labelled B) across from Lot 1 was used by the Developer for gravel and sandstone boulder storage. There is some gravel left and many sandstone boulders.

The larger, approximately seven acre, parcel (labelled A) on the other side of Musgrave Road is well treed with Fir, Cedar and some open spaces. The Driveway to the building site from Skywater Drive is in place.

Zoning allows for Main House; Guest Cottage; Accessory Building(s); and Agriculture Private Driveway to building site; drilled water well nearbuilding site; power and communication services to the property line Call today, for your appointment to view this totally private property.

These gems belong in your portfolio! Let's view.


---
May 26, 2020.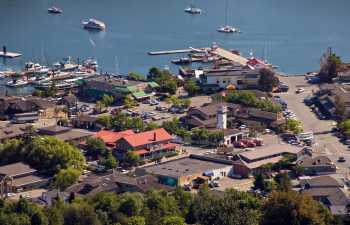 Back in 1974, the provincial government created the Islands Trust, "to preserve and protect" the environmental beauties of the Gulf Islands, for the benefit of all B.C. residents. Growth was controlled via strict zoning/density bylaws.

Ganges Village was designated as the commercial core of Salt Spring Island. A small area at Fulford Village was also designated as commercial, and an even smaller area at Vesuvius and at Fernwood.

Home occupations are allowed, as both the core seaside Ganges Village and the Upper Village areas cannot expand their defined boundaries.

In September 2017, Saltspringers were asked in a referendum if they wanted to become a Gulf Islands municipality (like Bowen Island)...the two elected trustees would have remained, to administer the Trust, but a local mayor and council would also have been elected to look after specific issues on Salt Spring. The referendum failed, with 63% of islanders voting to leave things alone. This puts Salt Spring firmly in 1974. It also means a maintenance style of governance continues to come out of Victoria.

The "After" (we are still in the "Middle") period of the covid-19 virus pandemic may totally change the face of Ganges Village.

The shift to an online world was created by the recent "stay home/social distance" government edicts...and the effect of total online means "shop local" will encompass the global village and not just Ganges Village.

There were already empty upper level offices and several empty storefronts throughout the Village. As leases expire, there may be more vacant retail options. An online store or presence means a physical store is no longer necessary.

Hmmm.... The Trust is there to preserve the past (the planners are in charge...not the elected trustees). The CRD director brings Salt Spring concerns to the Victoria based CRD (Capital Regional District), but the CRD is focused on Victoria issues.

The World, which means total online presence and the reality of Marshall McLuhen's 1970s "global village" mantra, is suddenly "even" with Ganges Village. What will this mean in two years time? Three? Five? Hmmm....no going back.

What do you see as the Ganges Core "look", going forward? Will the Village disappear?


---
May 23, 2020.

Enjoy your own private world on your own beautiful Island...all amenities and a self-sufficient lifestyle!



Seeking the very best in oceanfront pleasure? Here it is...your own private island.



Walk your own trails, welcome guests to an alluring seaside cottage, create in a seaside studio/workshop, enjoy an authentic rural cottage-home (feature fireplace, spacious living, vista dining, country kitchen with breakfast area, office or second bedroom, full bath, art gallery nook...with an aerie master bedroom/dressing/bath)...easy access out to expansive decking...expand those summer living pleasures!



Viewscapes of ocean, islands, mountains...to inspire the soul. Several private bays and coves...lovely ocean-side decking options for east/south/west sunshine.

Terrific dock...plus second dock offshore.



Arrive...stay...perfect as a seasonal retreat or as a year-round lifestyle. Totally private and "apart"...yet not isolated. Close to amenities that are also important to one. On community water. Easy to arrive here...easy to enjoy.

Call me for more information. 48 hours notice.

A definite WOW!


---
May 19, 2020.



The word from the provincial and federal governments: soft reopenings allowed now.

This past holiday weekend was a benchmark for the "stay at home" edict. In B.C., the health spokespeople have encouraged a slow business re-start, from now on.

Closures since March 12th, on Salt Spring, might see some local businesses not able to reopen.

The law of unexpected consequences is always happy to confront us.

It is said, to change a habit, one must do the new habit for 21 days. Apparently, it takes that long for our brains to accept a change from routine.

Here we are, two months later, with an online world.

People have been accustomed to working from home, to online shopping, to online meetings, to online education, to online family communications, to...you get the drift. Banking online and card payments (the end of cash as a financial medium?) are now fully with us. The terrain has changed.

In the efforts to cooperate, to "flatten the curve" of the very contagious virus, most people able to do so did stay home. Government payments to help people out, with the massive work closures/lay-offs, are going to have to be reckoned with down the line.

Have these massive payments made currencies valueless? Will debt be repaid by creating a new currency? If people want to stay home, will they want a guaranteed monthly income? Will interest rates rise? Will the tourism industry recover? Cruise ships, long distance flights, pleasure boats, cars...who will be the consumer? Will we see multigenerational housing construction take place? Nursing homes turned out not to be good for the aging. Will we see a return to the 3-generation model in family lifestyles? Hmmm...the only predictable outcome is "change".

It is true that change brings opportunity. Time to pull on our creative socks, and to think about the "going forward" moment. We remember the Before. We are nearing the end of the Middle. What does the After look like?

And your thoughts are? Always welcome!


---
May 15, 2020.




So, here we are, at the Victoria Day Holiday Weekend...a cross-Canada event, seen as a signal for summer. It's been seen as the "open up the cottage" weekend in many recreational areas.

On Salt Spring, it's also been the annual two-day Round Salt Spring Sailing Race event....but not this year.

The stay at home/social distance measures, in place since March 12th, have caused many cancellations/postponements of loved annual seasonal events.

The Saturday Market in the Park, Canada Day celebrations/fireworks, B.C. Day holiday weekend events, ArtCraft, ArtSpring theatre/music offerings and Treasure Faire fundraiser, Fall Fair, Sip & Savour...they have all been cancelled until 2021.

The provincial government is allowing soft reopenings of some businesses, after May 18 holiday Monday. Social distancing and solid cleaning practices between customers, limits on numbers of people in store at one time...and so on...all requirements of the new normal.

Real estate inquiries have been steady, in many online venues. Now, the important physicality is about to happen. Again, sanitizing protocols and social distancing.

As things slowly open up again, let's remember to Think Local. Let's support our business community. Let's keep the vibe of Ganges Village alive. Let's support all those who call this Island home. It's up to us!

Meantime: spectacular Salt Spring smiles forth its dazzling May beauty. Enjoy!


---
May 12, 2020.

Sophisticated lifestyle beside the sea? It's here...on special Salt Spring Island.



Sophisticated living beside the sea...in prestigious Reginald Hill, at Salt Spring's special "south end". Ready to move into and to immediately enjoy.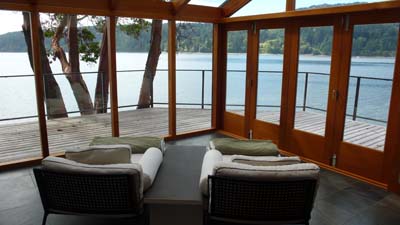 A Schubart design with a recent and very fine renovation...absolutely stunning...panoramic views of ocean/islands/mountains...sunsets to inspire. (S/SW/W exposures).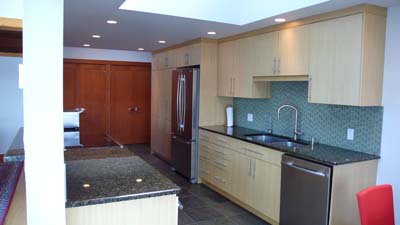 A baby point of land with further land on Reginald Hill itself. Lovely cove...perfect for a kayaker. Hike your own trails, walk to Fulford Village, close to ferry to Victoria, and just minutes to Ganges Village.



Formal entry/foyer, great room concept with vaulted ceiling, cook's dream kitchen, dining with a view, solarium poised above the cove...like living on a boat...endless views.

Guest bed/bath, plus laundry/mudroom, and master/ensuite complete the level entry main floor. Upper level offers library/gallery and ocean view bed/bath.

Separate garage, easy access to private cove, storage for kayaks.

A beautiful home...flair!


---
May 9, 2020.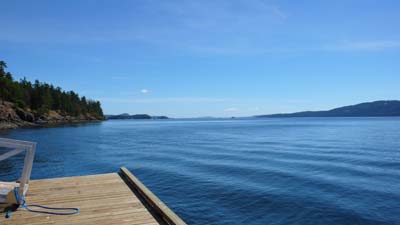 Early May on Salt Spring Island is an inspiring moment.

Everything has flowered forth and early vegetables are at the Tuesday Farmers Market. It is steadily warming up, and some days are more like summer-summer.

Slowly, the government restrictions "to stay at home/to social distance" are beginning to lift.

There is renewed optimism that there may be a summer market for the Gulf Islands and other recreational/visitor-centric regions.

Lots to enjoy, in spite of the many postponements of loved annual events.

Check out the Salt Spring Chamber website and keep up on the openings.

Look forward to welcoming you back to this significantly beautiful Island!


---
May 5, 2020.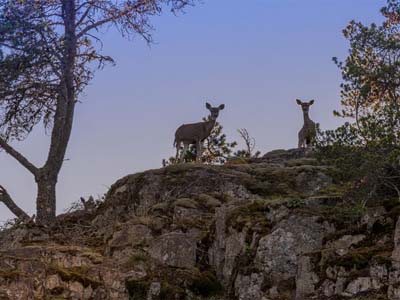 So...what's different on Salt Spring Island?

Cancellations of:

Saturday Market in the Park.
Canada Day festivities.
ArtCraft.
ArtSpring Treasure Faire.
Home and Garden Show.
ArtSpring presentations/concerts.
Sip & Savour.
Round Salt Spring Sailing Race.
Fall Fair.
In other words, all events that attract participation from the public and where social distancing would be impossible.

Closures:

all non-essential businesses.
all schools
Restaurants must be take-out only.
Accommodations providers closed.
Essential services must practice social distancing and follow strict cleaning/sanitizing procedures.
Parks and trails are closed.

Travel on Ferries is requested to be only essential services. Ferries had cancelled some routes and reduced service on others, on April 4. These routes/sailings may be restored on June 2. Floatplanes may try to offer service. They have been closed since March 12.

Cancellations and closures are seen all over Vancouver Island and in Victoria. No region of B.C. is exempt.

Are we still in "the Middle" (the Before being pre-March 12th)? Is there any sign of the "After"?

Check out the Salt Spring Chamber's websites and Facebook page. Various groups are meeting, stressing resiliency measures to create that serious "After". The Chamber highlights and proactively supports all these initiatives and outlines all possible federal and provincial government aid programs, on these chamber websites.

Salt Spring is a tourism based economy. Think Local is an essential to see businesses reopen later. It's a choice. Be thoughtful. Let's try to keep dollars on the Island...let's try to keep local businesses able to practice resilience. It's called: support.

And your suggestions are? Always welcome.


---
May 2, 2020

Exceptional view custom home awaits your pleasure...on special Salt Spring Island.



Superb executive home, on 6+ acres, in an area of fine homes, and with million dollar views, 180 degrees from West Vancouver to Mount Baker. Excellent all day/year round sun exposure (sunrises and sunsets, here!).



Close to both Ganges and Fulford Villages, and to lakes, to beach accesses, and to park hiking/walking trails, and to golf, marinas, all services, and yet in its own wonderfully serene and private environment.



Custom designed and construction by Gordon Speed Construction, Salt Spring's premier builder, the attention to detail here, and the fineness of the finishes, are superlative.



High end finishings thoughout: infloor heating, vaulted ceilings, hardwood & concrete flooring, Rumford floor to ceiling wood burning fireplace, high end appliances.

Master bed sitting room, with expansive decking off (hot tub with a view!), a dream ensuite (this shower is exceptional), and large walk in closet, is in its own private "wing". Dream kitchen with pantry/storage and mudroom entry off, dramatic dining with window wall that totally opens to the outdoor barbecue/decking, thus expanding summer living pleasures, plus formal entry and guest powder room. Separate laundry, and exercise room completes main level.

Garden level offers gallery/meditation space, guest bed and bath, media room, and a professional office space (could be third bedroom, if desired), plus generous storage. Easy access to patio areas, and that soaring view available to all principal rooms.

A finishing carpenter's personal home, totally unique, and totally beautiful. The home is ready to just move into and to enjoy. Landscaping (easy care/natural) frames the home. A home to inspire and to nurture one's soul...enjoy!

Priced below replacement value.


---
April 28, 2020.

Seeking a sunny pastoral and private lot on St Mary's Lake? This gem enjoys morning to evening light, and is ready for your design ideas and construction plans.



Seeking a beautiful lakefront lot? With sunrises and sunsets...all day light, year-round...and with calm privacy? Here it is, on the shores of St Mary Lake, on lovely Salt Spring Island.



This is the last good undeveloped lakefront parcel on this serene lake.



Arable land (fenced veggie garden can be brought back), with a pleasing meadow area at lake's edge, with gently sloping land and more than one possible building site. Clear out the blackberries and rediscover this land parcel.

Let's go explore...this is a find!

Looking for a stylish country home, with easy access to lake and a dock, with beautiful natural landscaping, and quality construction custom-designed home? Here's your waterfront estate...ready to enjoy.



Seeking a lakefront home? With dramatic sunset views, easy-care landscaping that frames the beautiful home, and with a pastoral and forest surround? Here it is, on special Salt Spring Island! Sunny privacy, located in an alluring part of St Mary Lake, with a home to match the location.



Main level enjoys spacious entry/foyer, leading to formal living (feature fireplace), formal dining (lake views!), plus to a "great room" concept: gourmet kitchen, family dining area, library/den (feature fireplace). Powder room off. Designated office off. Mud room entry and laundry off. Access to generous double garage/workshop. Separate wood storage close to garage.



Upper level, reached by staircase from entry/foyer, offers master-sitting with ensuite and walk-in closet, plus three further guest rooms and full bath. Lake and garden views inspire.



A daylight "partial basement", for storage, and also the water connections (water lease from the lake is in place).

Beautiful decking, patio spaces, reflecting pond, terraced garden (irrigation system in place) leading to the lakeshore, to a boathouse/storage, and to a dock. Summer pleasures await! Gated entrance...deer fencing in place.

Wood floors, custom window treatments, easy access to decking and patios from all principal rooms.

A very beautiful home, awaiting your discovery. Your Salt Spring lifestyle awaits.


---
April 25, 2020.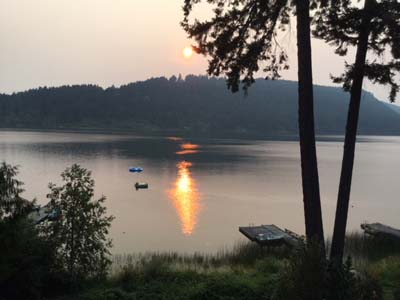 The efforts, globally, to suppress the covid-19 virus, have completely changed life as we were experiencing it before March 12th. Salt Spring Island and the Gulf Islands are also experiencing this massive shut-down.

No planes flying regular schedules, no accommodations open for travellers, ferries requesting only essential travel on sailings and also delivering service cuts.

Restaurants closed, unless can do take-out. People required to stay at home and only go out for groceries or medical supplies (and strict social distancing protocols to be followed).

Schools closed, non-essential businesses closed, people out of work. Massive government payments to offset some hardships. Many closed businesses may not be able to reopen. There is no timeline when the restrictions will be lifted. Some projections call for soft openings/still with social distancing measures in place perhaps by summer...other projections say it will take a year to 18 months for a return to a new normal (not business as usual, then).

Online options are the only communication links...communication style is very different online from a face-to-face meeting. We are social animals, as Aristotle reminded us, centuries ago. Hmmm.......

In any crisis, there is a rush to find solutions. Then there's a pause while it all seems insurmountable. Social dissolution arrives (crime goes up, mental health issues and domestic violence come to the fore). Uncertainty creates fear and depression.

What will the terrain of the "After" look like? These current shifts are very profound. Society in the "After", whenever it arrives, may not mirror the "Before" at all.

Time to be thinking creatively about how to handle this massive change. Are you ready for an online world? A long-term self-distancing requirement? Wearing of masks for some substantial time? Hmmmm.....

And your thoughts about the future outcomes are? Always welcome.


---
April 22, 2020.

Seeking English Country charm, by the seaside, on a Gulf Island? Here it is, a sunny enclave on special Salt Spring!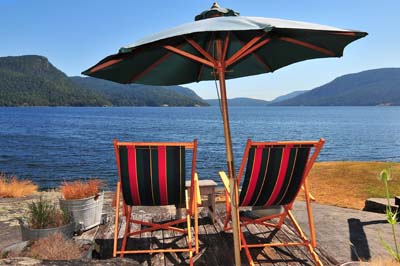 One could be in the south of France here...it's on the shores of beautiful Salt Spring Island. This microclimate that blesses the Southern Gulf Islands, including Salt Spring Island, is known as "cool Mediterranean". This property delivers on that alluring ambiance.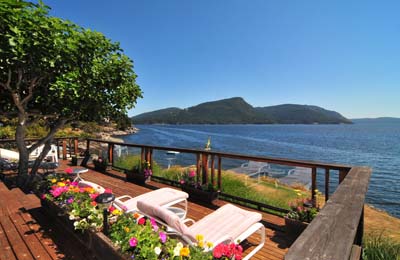 Superlative oceanfront awaits you! Warm ocean swimming here - lowbank sandstone foreshore, private cove! Panoramic ocean & mountain vistas! Exquisite home with true seaside "allure" - lovely "English Country" atmosphere. Easy-care & very appealing garden (deer fenced).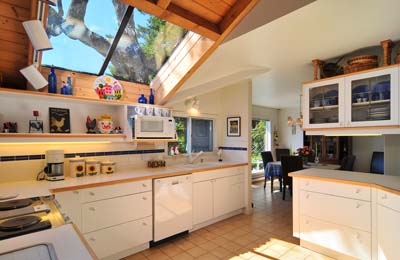 Formal entry/foyer into cosy living room, feature fireplace, spacious country kitchen with dining off (French doors out to patio and very pleasing garden spaces), family room with easy access to expansive oceanside decking), two bedrooms/bath, plus powder room for guests.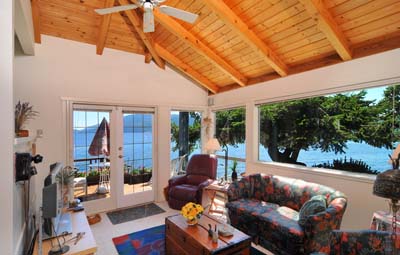 Sunny (S/SW/W - enjoy the sunsets!), private & in Salt Spring's premiere location (the Tantramar area of Vesuvius).

The plus? Separate guest/studio.

Ready to just move into & to enjoy! It's like the pages of Coastal Living magazine, come to life. Walk in and stay.


---
April 18, 2020.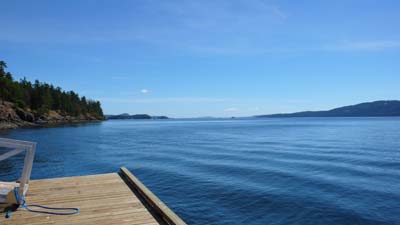 Change....is there a horizon to aim for?

The covid-19 outcome, with government edicts to stay at home/practice social distancing, has created a collapse of small businesses, with employees having to be let go, and a resulting inability from all sectors to pay bills. Societal distress can be an outcome of a lifestyle collapse.

In a small secondary home region, with tourism as the main driver of economic health, the lack of visitors (at the beginning of "the season") may result in permanent small business closures.

Nobody said it would be clear or easy, to envision a recovery. What would such a recovery even look like, in a discretionary region?

One visible item: a turn from face to face encounter to an online digital connection. This is a very different style of communication. Online connections are not necessarily conversations.

Will we see a move to a series of opinions, with no input from the listener...will connections be more like debates? A pro and a con, but not necessarily a meeting of minds? Hmmm.....

Time to practice listening skills?

What does a traditional tourism economy look like?

Outcomes for all have been generated by an initial (successful) visitor experience.

That means for most coastal places the intangible of a beautiful area with the emphasis on the natural world.

Salt Spring and the Gulf Islands saw people arrive by car, off ferries, but also via private boats (marinas and marine parks), and by floatplanes (regular sked flights between Vancouver and Salt Spring).

The accommodations sector, restaurants, coffee stops, bakeries, art exhibitions and craft fairs, farmers markets, special seasonal events, hiking/walking trails, fishing, whale watching, wine and cidery tastings, farmgate stands, art studio tours, cheese maker, olive groves, kayak and cycling adventures, art galleries...they all offered that happy visitor experience. Let's not forget alternative health providers, with spa-style opportunities.

The outcome? Repeat business each year, and in some cases the happy visitor decided to buy property.

At that point, everyone else, not just tourism oriented options, benefitted. A property purchase involved stagers, realtors, lawyers or notaries, building inspectors, water tests if on a well, septic installers if undeveloped land, excavating businesses, architects, designers, roofers, painters, contractors, tree fallers, arborists, site prep providers...soft furnishing providers, art galleries, etc etc etc. It was a long train of providers, many of whom may not have realized that the whole process had begun with a happy visitor experience.

That was the traditional visitor centric economy, in place on the Gulf Islands for decades.

At the moment, Salt Spring and the Gulf Islands, along with Vancouver Island communities, are in a sheltering in place/pause mode. When will the government directive to stay home/social distance lift? It's an unknown. Some projections say maybe by summer. Others forecast much later. Still others say not before there's a vaccine (two years?). In any case, there is a "before" (pre-March 12 for the Gulf Islands) and the "after" (when it gets here) will be dramatically changed.

Time to be thoughtful, to dust off our creativity, to let our imaginations take over. What is the scenario for a future Gulf Island experience?

Short-term, how might one help a tourism/visitor based economy survive?

And your thoughts are? Always welcome!


---
April 14, 2020.

Seeking an investment in a Salt Spring Island land opportunity? Consider these gems.

1: A beautiful lakefront parcel, with lovely views, great sun exposures, and arable opportunity.



Seeking a beautiful lakefront lot? With sunrises and sunsets...all day light, year-round...and with calm privacy? Here it is, on the shores of St Mary Lake, on lovely Salt Spring Island.



This is the last good undeveloped lakefront parcel on this serene lake.



Arable land (fenced veggie garden can be brought back), with a pleasing meadow area at lake's edge, with gently sloping land and more than one possible building site. Clear out the blackberries and rediscover this land parcel.

Let's go explore...this is a find!

2: An alluring semi-waterfront, in a tranquil neighbourhood, with panoramic vistas. Sunny, private, arable potential.



Here is a rural semi-oceanfront opportunity on the tranquil east side of special Salt Spring Island! A lovely open and sunny 1.22 acre parcel (year round!), with a generous amount of land on the oceanside - main house site on the upside portion.



Panoramic views, lovely walk-on beach at low tide, and you can keep your boat on a mooring buoy (seasonal moorage), if desired.



A great opportunity!

3: A sunny & private oceanfront acreage, ready for your development ideas. Panoramic S/SW views. Walk-on beach...ready to explore.



Wonderful oceanfront property on special Salt Spring Island invites you!



6.94 acres with approximately 450 ft of oceanfront, with lovely beach and superb panoramic viewscape. Enjoy nature at its best, sunny exposures, rural privacy, potential building site prepared, services to lot line. Share in a boat launch and park area.



Close to walking/hiking trails ecological reserve, parkland. Zoning is main home, guest cottage.

In the heart of magnificent boating, fishing, diving waters of the Canadian Southern Gulf Islands. Road access, situated in the island's tranquil "south end", about 20 minutes drive from Fulford. Beauty surrounds!

Call for more info and view this delightful and parcel soon.

More waterfront opportunities? Call me!


---
April 12, 2020.



Mid-April. A special time for those who practice a faith (Easter, Passover, Ramadan are celebrated now). For those who simply welcome the seasonal changes, the earth's early flowering forth after winter's severity, this is a time to savour.

With the ongoing shocking changes to lifestyles, due to the global covid-19 health crisis, Spring is a reminder that beauty does reappear...it gives hope.

The staying in place, the self-isolating, the business closures that have ruptured many lives, the cancellation of events and gatherings that gave us continuity, the fear of a spreading unseen virus...these are worries that affect all.

It's interesting that many people call the first two weeks of March the "Before". It recognizes that we are undergoing a huge societal shift. The "After" will not be the same as the Before.

An online world is only one change.

As we puzzle our way forward, living through this pandemic time, it's good to observe Nature's annual reminder: Spring is a rebirth.

Be inspired.


---
April 9, 2020.

A new home is waiting for you, on beautiful Salt Spring Island!

Enjoy this custom designed home right away. Choose your appliance package. Ready to move in and to enjoy!



Opportunity!



A new home, purpose designed for this lovely small acreage (lot 22, Spring Gold Way). Views over St Mary Lake, Salt Spring fields and forest, towards the dramatic Lower Mainland mountains.



Sunny exposures (e/s/w). Excellent drilled well, new septic, park reserve on one side-line for privacy...paved road to your private driveway. Mainly level, easy to landscape/garden to your wishes.



3 bed / 3 bath, dramatic living, stone fireplace, entertainment dining, great kitchen (appliance package), sep. laundry, attached double garage. A Wow! Close to all of Ganges Village amenities (schools, indoor pool, shopping, galleries, library, ArtSpring theatre centre, restaurants and also to golf & marinas...also close to hospital). Close to park hiking/walking trails.

Sleek design, lovely finishes,ready to enjoy!



Check this one out....a definite "best buy".


---
April 6, 2020.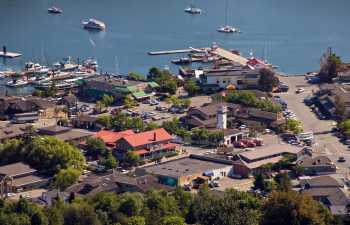 Since March 12th, Salt Spring has experienced the closure effects of the covid-19 virus outbreak. The Visitors Centre (operated by 50+ volunteers), asked to close on the 12th...they felt they were all in a high risk category, as the media was then covering the story...older/retired, with possible underlying health issues. The Chamber office is also closed to the public. The chamber manager and staff were all online and able to work from home.

There's the key...the online world is now fully with us, in under three weeks.

Although some businesses tried to stay open, in the end they were forced to close. The provincial government's stay at home/social distancing edicts ensured this. By March 23rd, most businesses on Salt Spring were closed.

Groceries, pharmacies, gas stations, liquor stores, building supply/hardware are open, but with reduced hours and controlled numbers of people allowed in a store at one time. Ferries have asked for essential travel only.

Accommodation providers are closed, restaurants (unless can offer take-out) are closed. Events (annual March Home & Garden Show) and outdoor markets (Saturday Market in the Park) have been postponed or cancelled. Social distancing is required in B.C. There may be a smaller farmers market allowed, with social distancing in place, as food producers (farmers) are now considered as an essential service.

Both the federal and provincial governments are promising help to those now out of work. These measures are taking time to take effect and do not cover all those suffering from business closures...the business owners. The Salt Spring Chamber website is making sure links to government sources are clear. The Chamber is also working closely with other Island groups to help both now and more importantly in the recovery time. Check the Chamber website for ongoing updates.

The sheltering in place/social distancing, and closures of businesses and events that cannot offer social distancing, are a global issue. Self-isolation is required, if sick.

Visitors are the economic engine of the Gulf Islands. The closures are happening at the beginning of the "season". Depending on how long these requirements are in place, some local tourism businesses may not be able to reopen. These are unique and disturbing times.

Physical distancing. Becoming totally online. These are societal shifts.

For many, they are calling the first two weeks of March "before". They are recognizing that we are now somewhere else...nothing is unchanged. There will be an "after". What input might Saltspringers have on that "after" scenario?

It is a time to be thoughtful about steps going forward. Salt Spring and the Gulf Islands are unincorporated areas, governed by the Islands Trust (a provincial government body in place since 1974) and the CRD (Capital Regional District), also a government body, based in Victoria. So, now, at this moment of shift, who is in charge? Hmmm.....

The "after". It will depend on how long the closures continue. Important to pay attention.

So important for Salt Spring and the Gulf Islands to seek solutions, to support businesses needing help, to make sure everyone is cared for during the pause, and then supported in the recovery. Check in with the Chamber of Commerce for what's happening at the ground level...be involved.

More info? Call me.


---
April 2, 2020.

A rural pastoral acreage, with year round creek, at Salt Spring's lovely "south end"...with potential opportunity for further development...an investment awaiting your ideas.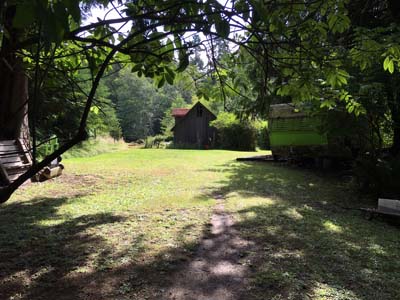 Sunny 42.9 acres in the beautiful Fulford Valley. Property backs on to parkland with walking trails.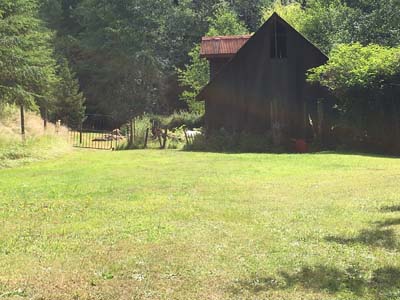 Part of the property is zoned residential, and part is zoned agricultural. The agricultural part is currently leased to be used as baseball fields.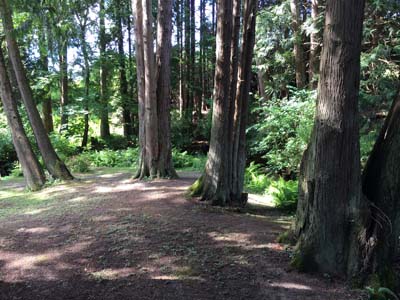 A potential estate property, farm, or vineyard. Close to Fulford Village and ferry. Many possibilities here!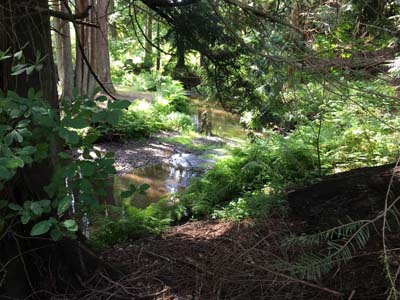 Build your pastoral dream! See Listing Agent for more info.


---