Current Entries
---
October 28, 2018.



Salt Spring Island offers a very pleasing year-round lifestyle opportunity.

Almost everything necessary to enjoy a 21st century lifestyle is available "on Island".

It's also easy to visit Vancouver Island communities, if desired: check out Sidney and Victoria via the Fulford to Swartz ferry connection...or, visit Duncan/Cowichan Valley via the Vesuvius to Crofton ferry route.

A quick floatplane flight delivers downtown Vancouver and the Vancouver airport in mere minutes...and the Long Harbour to Tsswassan ferry is a day-trip ferry route to the Lower Mainland.

The economy of Salt Spring is based on tourism. The Islands Trust (created by the provincial government in 1974) has a mandate of "to preserve and protect" the environmental beauties of the Gulf Islands, for the benefit of all B.C. There is no industry here. Tourism creates business outcomes.

A successful visitor experience will engender a call from a tourist to a real estate agent. The tourist becomes a buyer. Then everyone else gets busy: lawyers, notaries, architects, designers, contractors, soft furnishing providers, painters, drywallers, flooring providers, dock builders, lumber yards, hardware stores, restaurants, excavator and backhoe operators, septic installers, driveway installers, plumbers, electricians, well drillers, landscape designers, gardeners, art galleries, etc etc etc.

Those trades who think too much attention is paid to tourism need to follow the trail back from their job site to where it all began: with a successful visitor experience. It's like a train, and the engine that leaves the station is the tourist discovery...and then everything else follows.

The downside of a tourist based economy? On the Pacific Northwest Coast, it's a seasonal economy...and Salt Spring is no exception. The key months for visitors are May to October.

The Chamber of Commerce creates events for the "shoulder season", in an effort to create that off-season arrival. Encouraging visitors in the off-season keeps accommodation providers busy, plus restaurants, studios, galleries. Real estate sales are "seasonless"....

A secondary home/discretionary region has a very different rhythm from a city/primary residence area, and outcomes do depend on a vibrant tourism response.

More info? Call me!

liread33@gmail.com


---
October 24, 2018.

Be inspired by this serene executive home...stellar design and amazing views.



Superb executive home, on 6+ acres, in an area of fine homes, and with million dollar views, 180 degrees from West Vancouver to Mount Baker. Excellent all day/year round sun exposure (sunrises and sunsets, here!).



Close to both Ganges and Fulford Villages, and to lakes, to beach accesses, and to park hiking/walking trails, and to golf, marinas, all services, and yet in its own wonderfully serene and private environment.



Custom designed and construction by Gordon Speed Construction, Salt Spring's premier builder, the attention to detail here, and the fineness of the finishes, are superlative.

High end finishings thoughout: infloor heating, vaulted ceilings, hardwood & concrete flooring, Rumford floor to ceiling wood burning fireplace, high end appliances.



Master bed sitting room, with expansive decking off (hot tub with a view!), a dream ensuite (this shower is exceptional), and large walk in closet, is in its own private "wing". Dream kitchen with pantry/storage and mudroom entry off, dramatic dining with window wall that totally opens to the outdoor barbecue/decking, thus expanding summer living pleasures, plus formal entry and guest powder room. Separate laundry, and exercise room completes main level.

Garden level offers gallery/meditation space, guest bed and bath, media room, and a professional office space (could be third bedroom, if desired), plus generous storage. Easy access to patio areas, and that soaring view available to all principal rooms.

A finishing carpenter's personal home, totally unique, and totally beautiful. The home is ready to just move into and to enjoy. Landscaping (easy care/natural) frames the home. A home to inspire and to nurture one's soul...enjoy!

Priced below replacement value.


---
October 20, 2018.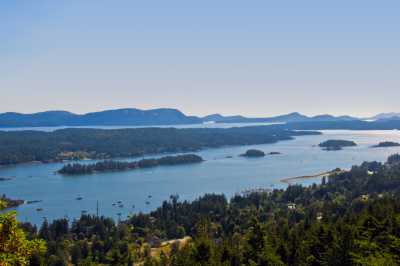 Searchable versus Experiential...two sides of information.

It seems that the first decade and a bit of a new century includes what was established information at the tail end of the previous century.

It may be that 2018 is the year that the "real 21st Century" clicks into place. Change is the key word.

For those who remember 1998 or 2002 or 2010, the shifts are vivid. For those who are in their 20s right now, change is just the wallpaper of their lives...the "surround sound"...accepted simply because it is what is.

Searchable: a question? Seek the answer via a search engine. Is the answer cursory? Internet information is not necessarily full or definitive.

Experiential: knowledge from direct and personal experience. There's an emotional and interpretive aspect to direct experience information.

The two together are necessary. For real estate: search out an area, find out as much as possible. Then, visit and experience first-hand the reality behind all those photos on the Internet. Things are not always what they seem on an Internet search.

Initially, the searchable path will cough up "big data". No corroboration or interpretation...just raw statistical data.

A follow-up in real time, on site, will discover the "actual"...location, problems not seen on internet marketing, exposures, neighbourhoods as they are...plus an on site realtor's interpretation of "solds" data.

In a secondary home/discretionary area, that local interpretive voice is important. On a Gulf Island, it's essential. The Gulf Islands are not municipalities. Under the provincial government mandated body known as the Islands Trust (in place since 1974), a buyer on a Gulf Island needs to connect with that "local voice" of an experienced realtor.

Beyond data...that's a great description of a real estate purchase on Salt Spring Island and the Gulf Islands.

More info? Call me.

liread33@gmail.com


---
October 17, 2018.

Here's the perfect ocean side opportunity on Salt Spring Island...ready to enjoy!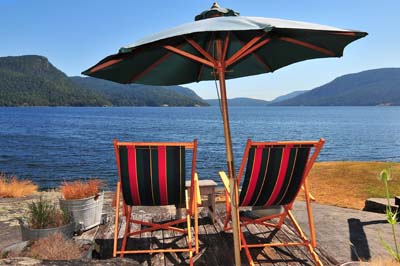 One could be in the south of France here...it's on the shores of beautiful Salt Spring Island. This microclimate that blesses the Southern Gulf Islands, including Salt Spring Island, is known as "cool Mediterranean". This property delivers on that alluring ambiance.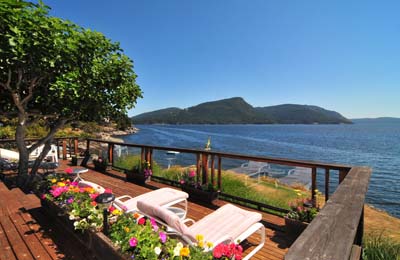 Superlative oceanfront awaits you! Warm ocean swimming here - lowbank sandstone foreshore, private cove! Panoramic ocean & mountain vistas! Exquisite home with true seaside "allure" - lovely "English Country" atmosphere. Easy-care & very appealing garden (deer fenced).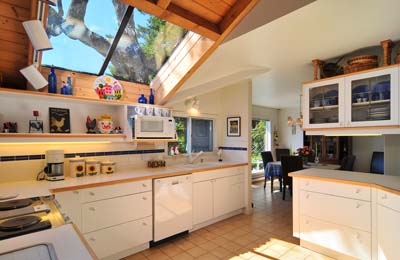 Formal entry/foyer into cosy living room, feature fireplace, spacious country kitchen with dining off (French doors out to patio and very pleasing garden spaces), family room with easy access to expansive oceanside decking), two bedrooms/bath, plus powder room for guests.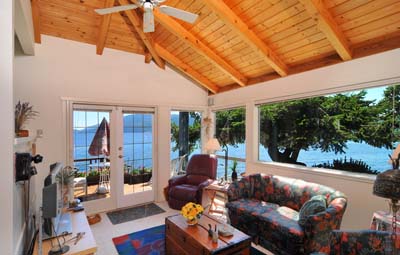 Sunny (S/SW/W - enjoy the sunsets!), private & in Salt Spring's premiere location (the Tantramar area of Vesuvius).

The plus? Separate guest/studio.

Ready to just move into & to enjoy! It's like the pages of Coastal Living magazine, come to life. Walk in and stay.


---
October 9, 2018.



This is B.C.'s civic election year...municipalities elect mayors and council members. The Gulf Islands are a part of the Islands Trust, are not municipalities, and so each island elects two trustees and one regional director.

It's not population driven...Salt Spring has 10,000+ residents, and elects just 2 trustees. A CRD (capital regional district) director is also elected.

Salt Spring groups (such as Chamber of Commerce and Economic Development Commission) have been working to get rural status (at moment, it's under an urban designation).

The Island is a pastoral and rural entity, definitely not an urban environment, and so is hampered by this incorrect label. Funding for island initiatives would increase with a change to a rural status.

An all-candidates meeting, sponsored by the Chamber of Commerce and the Driftwood newspaper, is on Oct 10th, at ArtSpring. Two people are running for the one CRD position, and seven people are running for the two trustee positions.

Some of the issues on Salt Spring: water moratorium and lack of work rentals/affordable housing. There is a connection between these two things. There is a lot of water on Salt Spring: the issue is capture and distribution. There are several permitted and funded affordable housing/work rental spaces ready to go...but can't, because of the water moratorium. Hmmmm....

Try to attend the All Candidates meeting...listen to the people running for office. It's a four term period for those elected. How do you envision Salt Spring, five years out?

Be informed!


---
October 5, 2018.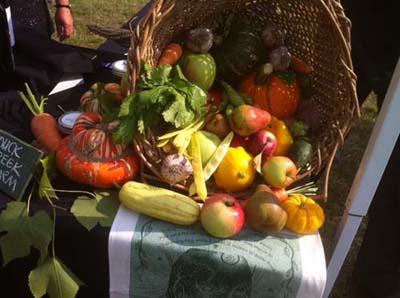 This is the Canadian Thanksgiving Weekend. It's a time to meet with friends and family...to enjoy the Harvest bounty...a time to be appreciative of all that we enjoy.

On Salt Spring? The Saturday Market continues, farmgate stands are offering produce, special menus are featured at our great restaurants, artists studios are open, Mahon Hall and ArtSpring galleries are showcasing artists, the Ganges galleries are featuring their Fall presentations...it's a time to feed the body and the mind!

Walking/hiking trails immerse us in the natural world's restorative ambiance...try a little forest breathing.

Take time to savour the pleasures of this softer season...and to enjoy the Harvest moment. Giving thanks is always special.


---
October 3, 2018.

Irreplaceable waterfront in Maple Bay...a WOW!



Mystery & Charm...on the edge of civilization.

Are you seeking privacy, beauty, sunny property in natural state, with proximity to major centres? Here is an exceptional 11+ acre forested waterfront paradise.



Located in prestigious Maple Bay, a part of the Cowichan Valley's "warm land" temperate climate, with some of the best protected anchorages on coastal B.C., this gem invites your pleasure.



An heirloom cottage home, the allure of living on a boat with the space and convenience of a home, is your place to stay. Expansive decking, docks for the yachts, nestled into a cove...the historic name for this beauty: Hidden Cove.



A point of land, with an easy access bay that catches sunsets, and a cove that dazzles with morning and afternoon light...private walking trails, grassy meadows, pond...majestic coastal forest (fir, cedar, hemlock, maple, alder)...arbutus and Garry oak groves...wildflower meadows...the property encourages that WOW response.

A secondary cottage, an authentic woodworking workshop, a cottage-home with off-the-grid delights for immediate enjoyment...and dramatic space to build your dream home.

A paved road leads to your inviting driveway...power to the lot line, if you wish to "connect", meantime, off the grid connectivity...views to inspire...sunsets to enjoy...a marine experience without parallel...and mere minutes to all services/amenities.

Vineyards, galleries, specialty shops, farmers markets, award-winning restaurants...all at your doorstep. Floatplane to Vancouver (downtown is 25 minutes and the international airport is 12 minutes). An easy drive to nearby Victoria, and close to Mt Washington for skiing thrills.

In the heart of some of the best protected boating waters in the world...your dock is your passport to adventure and discovery.

Call me for your introduction to this magical oceanfront property...you are home.


---