Current Entries
---
October 29, 2019.

Seeking a sophisticated waterfront opportunity on Salt Spring Island? Here it is...ready to enjoy!



Sophisticated living beside the sea...in prestigious Reginald Hill, at Salt Spring's special "south end". Ready to move into and to immediately enjoy.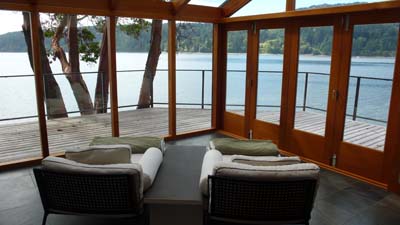 A Schubart design with a recent and very fine renovation...absolutely stunning...panoramic views of ocean/islands/mountains...sunsets to inspire. (S/SW/W exposures).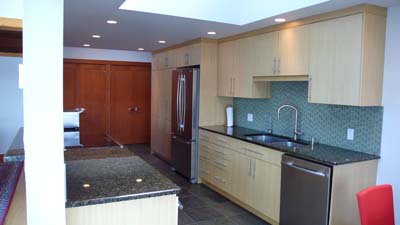 A baby point of land with further land on Reginald Hill itself. Lovely cove...perfect for a kayaker. Hike your own trails, walk to Fulford Village, close to ferry to Victoria, and just minutes to Ganges Village.



Formal entry/foyer, great room concept with vaulted ceiling, cook's dream kitchen, dining with a view, solarium poised above the cove...like living on a boat...endless views.

Guest bed/bath, plus laundry/mudroom, and master/ensuite complete the level entry main floor. Upper level offers library/gallery and ocean view bed/bath.

Separate garage, easy access to private cove, storage for kayaks.

A beautiful home...flair!


---
October 26, 2019.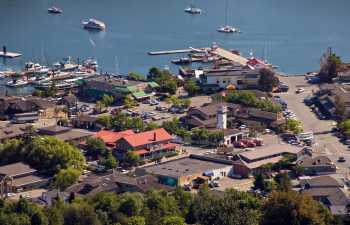 Salt Spring Island is part of the Islands Trust, a provincial government body set up in 1974, with a mandate "to preserve and protect" the environmental beauties of the Gulf Islands, for the benefit of all B.C. residents.

Growth has been strictly controlled by severe zoning/bylaw restrictions. Two trustees are elected each civic election (every four years), and they administer the Trust (via appointed planners, who come from Victoria. The other elected representative is the CRD Director (the Capital Regional District is based in Victoria. Again, decisions are ratified from the CRD board).

Salt Spring is not a municipality. The zoning/bylaw restrictions are not malleable.

The initial reason for the Trust: to prohibit rampant growth. Back in 1974, there was a concern that the Gulf Islands would be over-developed. The government stepped in and created the protections of the Islands Trust. The park-like ambiance of the Islands was preserved.

In 1974, preserving the beauties of the natural world was the purpose.

In 2019, the preservation may have expanded to allow the natural world to flourish as an antidote to technology's alternative realities (virtual, augmented, robotic).

The ability to experience a 1974 culture in 2019 may have a restorative value...for both those who live on the Gulf Islands and for those who visit.

More information on the Islands Trust and its protective effect on Salt Spring Island? Call me!

liread33@gmail.com


---
October 23, 2019.

Enjoy your own private island...privacy without isolation...discover the serene pleasures of Kolb Island.



Seeking the very best in oceanfront pleasure? Here it is...your own private island.



Walk your own trails, welcome guests to an alluring seaside cottage, create in a seaside studio/workshop, enjoy an authentic rural cottage-home (feature fireplace, spacious living, vista dining, country kitchen with breakfast area, office or second bedroom, full bath, art gallery nook...with an aerie master bedroom/dressing/bath)...easy access out to expansive decking...expand those summer living pleasures!



Viewscapes of ocean, islands, mountains...to inspire the soul. Several private bays and coves...lovely ocean-side decking options for east/south/west sunshine.

Terrific dock...plus second dock offshore.



Arrive...stay...perfect as a seasonal retreat or as a year-round lifestyle. Totally private and "apart"...yet not isolated. Close to amenities that are also important to one. On community water. Easy to arrive here...easy to enjoy.

Call me for more information. 48 hours notice.

A definite WOW!


---
October 21, 2019.



Today is voting day for the Canadian Federal Election.

Canada follows the British Parliamentary system of governance...elections have approximately thirty days from start to finish, so it's a short and intense process.

Voting is from 8 a.m. to 8 p.m., and the weekend before (12, 13, 14th) were early voting days, across Canada.

Canada's varied weather systems, depending where one lives, mean it's always a challenge somewhere, to get to the voting station.

To be able to vote in a free election is something to cherish.

No apathy...it's important to be thoughtful and then to vote.

Make your voice count.


---
October 18, 2019.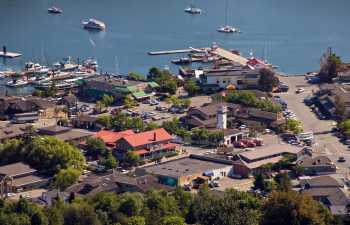 On Salt Spring? Enjoy the harvest season here...the agricultural community is a strong part of Salt Spring's allure.

The Saturday Market continues till end of this month and the Tuesday Farmers Market also continues.

Tomorrow, Saturday, Oct 19th, the Chamber sponsored annual Sip & Savour event takes place...showcasing food and drink from our special island. Enjoy the tasting experience!

Tomorrow is also the finale of the SSNAP (Salt Spring National Art Prize) month long event. Held every two years, this showcase of artistic expression emphasizes Salt Spring's authentic arts community. Artists from across Canada take part...over a thousand entries and only fifty chosen. Tomorrow evening's reception announces the winners in varying categories. Truly a WOW event, and it's an initiative from Salt Spring.

Late October is a mix of crisp sunny days and cloudy, windy, rainy spells. It invites us all to pattern ourselves after the weather...a fallow field moment, a withdrawing to eventual renewal, is a part of a year's rhythm.

Salt Spring's coastal beauty welcomes in all seasons. Enjoy.


---
October 15, 2019.

Live gracefully...here is a classic home, a "west coast Georgian" style...on 10 private and rural acres...and it's on special Salt Spring Island!



Seeking the unique and the beautiful? Here it is: an heirloom property on Salt Spring Island.



A sunny and private 10+ acres, in a premier rural neighbourhood, close to Village, to lake, to theatre, to golf.



Totally upgraded by current owners (only the second owners of this historic property), yet retaining the appeal and charm of the architect designed home.



Initially home to a British family, working and living in China, designed and built by a Vancouver architect and contractor, the home enjoys an homage to an Edwardian-style ethic.

Main level: Formal entry/foyer, expansive living with feature fireplace and access to private garden patio, formal dining, recently renovated kitchen, plus guest bath, library/den, separate laundry/pantry.

Upper level: master-sitting with dressing room and ensuite bathroom. Three other bedrooms (one currently an office and another a sewing/craft room), plus full bathroom.

Lower level/basement: expansive storage, workshop, wine room, furnace room.

Wood floors, custom windows, yellow cedar panelling...a lovely homage to another time...an authentic character home...with all the required elements of a happy 21st Century lifestyle.

A priceless offering! The plus? possibility of subdividing. A further plus? Zoned for separate guest cottage & separate studio.

Live with grace and charm...easy care lifestyle!


---
October 11, 2019.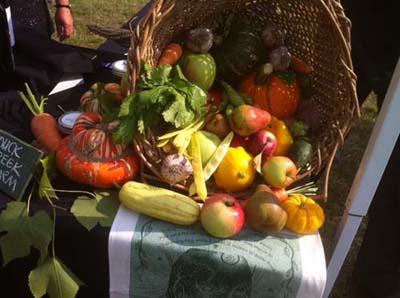 This is the Thanksgiving Weekend...Monday the 14th is Thanksgiving Day, a holiday.

The Canadian Thanksgiving is an authentic harvest celebration.

On Salt Spring? Check out our great local restaurants...some will be offering a Thanksgiving Dinner (among them, delectable Hastings House).

SSNAP (Salt Spring National Art Prize) continues. Held once every two years, this event is showcased at Mahon Hall. Don't miss it! Final day is the 19th.

The Saturday Market is still on...along with artisans, the market features local farm produce.

Discover the hiking/walking trails on Salt Spring...they link the entire island. Is that a quest? To walk all the trails within one year? Hmmm....

Thanksgiving is a time of traditions, of family and friends gathering, of memories and of new beginnings. It's a pause at a time of "gathering in"...of being thankful for the plenty of the harvest season.

Remember to take time for that attitude of gratitude. The "thanks" is personal. The "giving" is about including others at the feast.

Enjoy your special Thanksgiving traditions!


---
October 8, 2019.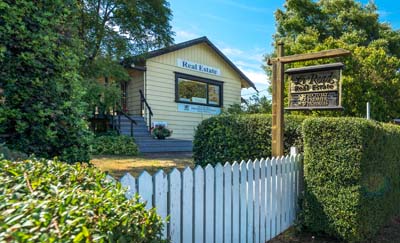 Seeking Salt Spring Island property information? Welcome to my seaside Ganges Village office.

Located at the corner of Lower Ganges and Rainbow Roads, with parking lot behind the charming yellow character building, with access off Rainbow Road, my office is easily reachable.

A law office is located on the Rainbow side and my office is on the opposite side...I look out at Ganges Marina and the Harbour. The Food Garden is adjacent.

With access to all listings currently available, regardless of realtor, company, or board affiliation, I will make sure that you know about all inventory.

The Southern Gulf Islands are in what the real estate boards call "a grey area". This simply means that three different boards (Vancouver, Victoria, Vancouver Island) overlap the Gulf Islands.

The MLS (realtor.ca) is geographic. Realtor.ca is the only way to find all MLS listings on Salt Spring.

Several years ago, pre-Internet impact, real estate boards began to offer a "private client service" (PCS) to realtors...this is a drip feed from a realtor's board, re new listings popping onto the MLS.

In a "grey area", though, this feature will limit a consumer's market knowledge. A PCS from a Victoria Board affiliated realtor, for example, will only show listings put onto the MLS through the Victoria Board portal.

A board is the doorway that allows a realtor to put his/her listings onto the geographic MLS. For a consumer to see all listings on Salt Spring, then, it's essential to view realtor.ca (the MLS).

A PCS might work in a uniform board area (every realtor on the same board), but it definitely is only partial knowledge in the Southern Gulf Islands, which is represented by the three different boards.

I make sure that my information on Salt Spring properties includes all listings, regardless of realtor, company, or board affiliation. More info? Call me!

Salt Spring is a year-round and stand-alone community. It is not necessary to leave the Island, re lifestyle choices, but it's easy to do so, if desired. Look forward to discussing this with you. A buoyant lifestyle in January, as well as in July, is important.

The Internet has brought many alternative venues in competition to the MLS. However, these private companies pick and choose what listings they will feature. The MLS (realtor.ca) is still the only place to find out everything about current Salt Spring Island listings.

Contact me anytime, for more details...on the "grey area" and its impact on full information...and also on the changes made to the Real Estate Services Act of B.C. (on June 15, 2018).

Your best interests are always my motivation.


---
October 4, 2019.



October is Fall's signature month.

Sunny crisp weather with inspiring views of mountains and sea, plus rainy storms, and shorter days, with maple and alder trees turning gold, fluttering over fields and pavement...it is a beautiful season this hiatus between summer and winter, and it is all about Harvest pleasures.

Salt Spring's hiking/walking trails are ready to be explored. Sailing races take place on Sunday afternoons. The Saturday Market is on till end of the month and the Tuesday Farmers Market offers harvest treasures from the island's local farmers.

SSNAP (Salt Spring National Art Prize) is showcased at Mahon Hall, our great restaurants are featuring special menus, Ganges galleries are open with artist presentations, Sip & Savour (an annual event) is at Farmer's Institute, Small Business Week events are featured by Chamber, the Canadian Thanksgiving takes place...live music venues...ArtSpring events...October is a busy month!

Salt Spring was voted 34 out of 50 chosen, in a survey of islands to visit, globally. That's a WOW.

Thinking of buying a property on lovely Salt Spring? Benefit from my knowledge and expertise. Your best interests are always my motivation.

Look forward to meeting you.

liread33@gmail.com


---
October 2, 2019.

Authentic seaside retreat awaits your pleasure...at Salt Spring's special "south end". Sunny privacy...serenity to soothe.



The definition of charming! Oceanfront Panabode log cottage with two bedrooms, and wood burning woodstove.



Beautiful ocean views featuring Russell Island (part of the Gulf Islands National Park), and Moresby Island beyond. Sunny ocean view decking.



Lovely easy care one+ acre property. Close to Fulford Village and Ferry.



Ideal weekend or summer getaway, or live year-round in a beautiful setting!


---