Current Entries
---
March 31, 2020.

The very best rural holding on the Gulf Islands awaits your pleasure...84 acres of Salt Spring Island pastoral beauty...enjoy!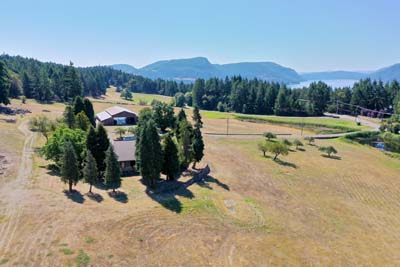 Here is a rare opportunity to enjoy the premier pastoral holding on special Salt Spring Island.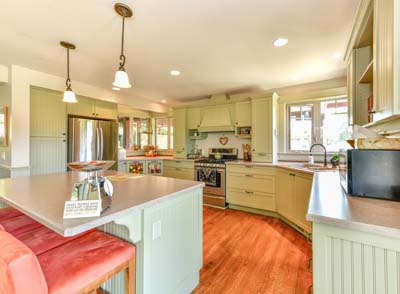 This 80.56 acre property is unique in the Gulf Islands and has only changed hands twice in the past 90+ years.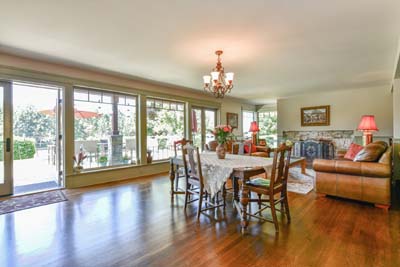 Create your estate here...the palette is ready for your ideas. Several potential locations for your home...bring your architect and enjoy your personal discovery of this most rare offering.



A forest surround protects privacy...and offers personal hiking/walking trails. Spring-fed ponds create pleasing reflective elements. Tested slope and soils for a vineyard. Majestic oak, arbutus, maple trees to incorporate into a courtyard, if desired. 8000 sq ft barn and kilometres of bridal paths for equestrian enjoyment.

On site: an appealing 4000 +/- sq ft Guest House/Manager's Residence, surrounded by mature walnut, cherry, pear, and apple trees. Stone walls, hedges, and mature landscaping features that took generations to create. It is exceptional to find these elements in place.

Open fields, blue skies, soaring birds, forest trails, gurgling springs, reflective ponds, stone, timber, warmth of all day sun, ocean views...this is a delectable property offering.

The art of living well requires a special canvas...this is a unique and irreplaceable land holding for generations to come. Here is an authentic legacy property.

Call for more information and for your discovery visit...I look forward to meeting you.


---
March 28, 2020.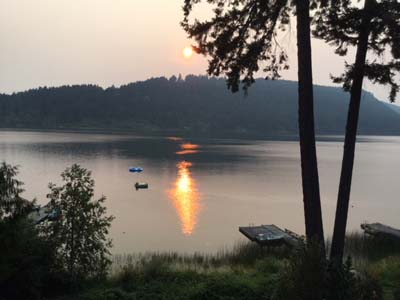 Fear.....

It's been with us since we lived in caves. The famous fight or flight reaction?

In today's highly urbanized, crowded, and technology driven society, the current biggest fear may be our health.

The corona virus (covid-19) is creating "super fear". It now appears to have erased climate change as the key worry of our immediate time. It consumes our media reporting.

Global lifestyles and urbanization make it difficult to block the spread of virus outbreaks.

Health issues remind us that we are not immortal. As poets and philosophers have always pointed out, we are wired to think we will always be here, even though it's clear that nothing lasts.

When an authentic crisis hits, it changes a society.

The global virus epidemic is decimating travel and tourism industries (airlines, cruise ships, resorts, hotels, B&Bs, airb&b, taxis, ride-sharing options, car rentals, whale watching tours, galleries (such as the Louvre), large gatherings whether concerts or political rallies, shopping in malls....and on and on. Schools and universities are canceling classes. Entire countries are in lockdown, prohibiting travel. Livelihoods (yes, that means business) are suffering and some may disappear.

Will this cancellation of globalism (that's what it is, this prohibition to move people and goods, wherever/whenever, in the world trade network) also create political change? Hmmm.....

In the rush to find the antidote, the cure, to stop the spread of the unseen, there are huge disruptions underway. This could be one of those changes no one saw coming, but which will rewrite our lifestyle surrounds.

Meantime, follow the rules to optimize health: wash your hands regularly. Cough or sneeze into your sleeve. Don't shake hands. Regularly wipe down surfaces with disinfectant (including that smart-phone). Stay home when not feeling well. Stay away from crowds. Put off holiday travel for now. Go online to shop, to have groceries delivered to you. Take vitamin supplements, walk in open-air options, keep up your health routines...important to encourage a strong immune system.

When the crisis is over, what will the terrain look like? Will it have created an online global society? Who will be in charge to administer it? Will Orwell's 1984 be a reality? Or, will we have returned to the Middle Ages "city state" motif? Individuals in charge of their immediate surround? Or...something not yet imagined for governance? Hmmmm.....

A reminder: change is always with us, no matter the speed of it, or the propelling reason. Also: in change lies opportunity.

As we practice best health options, as individuals, going forward, it's essential to not panic. Be thoughtful. Be solutions oriented. Be clear-minded. Take precautions, but do not let anonymous fear uproot you.

We don't get to choose our time...we do get to respond to eruptions in our time. And your thoughts are? Always welcome.


---
March 24, 2020.



For the first time in 124 years, Spring became official on March 19th this year, and not on 20th/21st. So, the calendar agrees...it's truly Spring now.

Orchards are in blossom, lambs are in pastures, snowdrops, crocus, daffodils, camellias, rhododendrons, forsythia are all spreading their beauty and inspiring us to pay attention.

Bushes at roadsides are fluffing into greenery, and maple and alder leaves are budding out. Salt Spring and the Southern Gulf Islands offer a natural largesse, a gift to all who live or visit here...and early Spring encourages the enjoyment of Nature.

The global covid-19 virus outbreak has led to sheltering in place, to social distancing, and to decisions not to encourage visits to areas like the Gulf Islands.

If you live on Salt Spring, and are vigilant about social distancing, it can be restorative to treat yourself to a quiet picnic lunch outdoors, to enjoy a distanced ramble on Ruckle Park trails...to catch low tide at Vesuvius Beach on your own...to quietly stroll out Fernwood Dock. Lots of places to remember the pleasures of summer-to-come.

Soon! Spring is the forerunner.

One will have to wait a bit to enjoy the sunny warming days and meet for coffee on the patios/decks of: TJ Beans, Barb's Bakery, Switchboard, Rock Salt Cafe, Treehouse Cafe, Fernwood Cafe, Seaside Kitchen, Auntie Pesto's, Moby's, Salt Spring Inn...clearly, Saltspringers like to dine out! Lucky islanders...lots of choices. Keep these gems in mind, remember previous pleasures, and, when social distancing is relaxed, enjoy again these special spaces with your friends.

Spring is a short season...enjoy the blossom trees in Centennial Park, and in the walk-ways around the town...at times when people are not in Ganges Village. Thank you to those who landscaped/planted years ago, for our enjoyment today. Be inspired to plant daffodil bulbs in unexpected places, to welcome all the Spring seasons ahead.

Meantime, hold Salt Spring in your mind...beauty awaits, always.


---
March 21, 2020.

English country charm on a Salt Spring waterfront gem!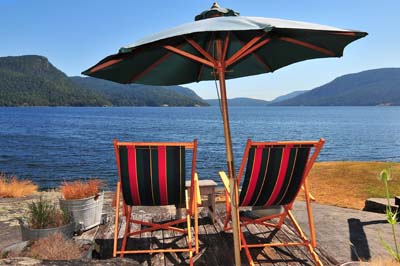 One could be in the south of France here...it's on the shores of beautiful Salt Spring Island. This microclimate that blesses the Southern Gulf Islands, including Salt Spring Island, is known as "cool Mediterranean". This property delivers on that alluring ambiance.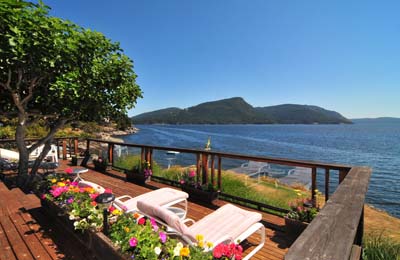 Superlative oceanfront awaits you! Warm ocean swimming here - lowbank sandstone foreshore, private cove! Panoramic ocean & mountain vistas! Exquisite home with true seaside "allure" - lovely "English Country" atmosphere. Easy-care & very appealing garden (deer fenced).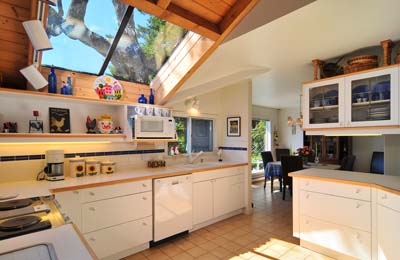 Formal entry/foyer into cosy living room, feature fireplace, spacious country kitchen with dining off (French doors out to patio and very pleasing garden spaces), family room with easy access to expansive oceanside decking), two bedrooms/bath, plus powder room for guests.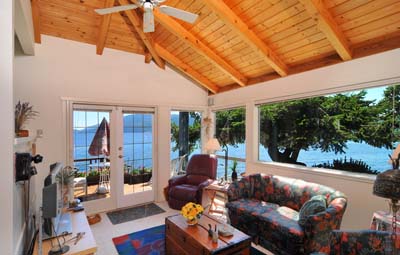 Sunny (S/SW/W - enjoy the sunsets!), private & in Salt Spring's premiere location (the Tantramar area of Vesuvius).

The plus? Separate guest/studio.

Ready to just move into & to enjoy! It's like the pages of Coastal Living magazine, come to life. Walk in and stay.


---
March 18, 2020.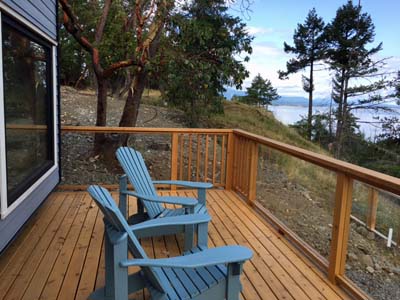 Affordability?

It's an issue everywhere. Whether in a primary residence (city) marketplace or in a secondary home (rural/discretionary) region, lack of affordable housing is acknowledged in all areas.

On Salt Spring, there are many people who work on the Island, but who have to commute daily from nearby Vancouver Island because they can't find a place to live on Salt Spring. This is where we need a creative Trust/planners/CRD partnership. The 1974 bylaws could be introduced to 2020...without encouraging overgrowth.

When I arrived on Salt Spring, it was approved to build a house, a separate guest cottage, a separate studio on half an acre. A studio was allowed a full bathroom.

The Trust meets when most islanders are at work. Over time, they have required three acres minimum to have the separate guest cottage. Plus, they now have only allowed a 2-piece bathroom in a studio.

The official community plan (OCP) describes a guest cottage as a seasonal dwelling...not meant to be rented out full-time to a tenant. The reality is that people do rent out their cottages to tenants.

Cobbled together bylaw amendments, to try to address the lack of work rental accommodation on Salt Spring, as a result of islanders complaining to the Trust, does not resolve the problem. The "law of unexpected consequences" might even create further problems.

It's time to loosen some regulations...why not go back to guest cottage & full bathroom studio on a half acre parcel...perhaps in those smaller "close to the Village" lots? Work rental perhaps requires ability to walk to work? Why not create rental accommodation in vacant office upper levels of Ganges Village buildings? Or allow retail in storefronts with living behind?

Affordability...supply and demand are key. Perhaps allow low rise rental apartment buildings on land close to the Villages? Definitely time for 1974 to contact 2020.

The goal? Keeping Salt Spring viable as a stand-alone vibrant community. And your ideas are? Always welcome!


---
March 14, 2020.

Seeking a spectacular property on special Salt Spring? Interested in building your own dream home? Here is an exceptional opportunity...at Narrows West...oceanfront and ocean view acreages, awaiting your pleasure.


---
March 11, 2020.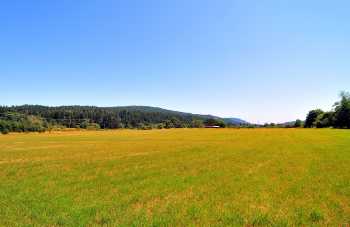 It's interesting how "what goes around comes around"...in this case, the back to the land movement.

Many real estate buyers are seeking a softer lifestyle, away from the city, where they can garden, perhaps be more self-sufficient/grow their own food. A rural experience wears many faces...on a Gulf Island, it involves the sea as well as the land.

The provincial government body known as the Islands Trust, in place since 1974, protects the Gulf Islands from overgrowth. Zonings were put in place in 1974 that control what can happen and where. Think of the Gulf Islands as park reserves, for the benefit of B.C. residents: "this much and no more", as to development options. Lack of inventory, over time, does result in higher prices for what is available, say, than something similar on Vancouver Island.

Add a market driven lack of inventory and one might see escalation of prices. Things are not static in a real estate market...things go up and down, over time, and this rhythm is driven by buyers. Underneath a market pattern, for a Gulf Island, though, is the government body, the Trust, that prohibits growth. You get the drift!

Sustainable farming is a challenge wherever it is attempted. Salt Spring's micro-climate (known as "cool Mediterranean") supports vineyards, wineries, olive groves, orchards, cideries, craft brewery, organic hops, berries, cheesemaker, and prolific veggie growers. The farmgate stands and the Tuesday Farmers Market and the Saturday Market are supported by Islanders and visitors alike. Local restaurants prepare amazing menus for our delight, using local produce whenever possible. The Hastings House resort-hotel gardens supply much of what is prepared in their kitchen.

Interested in the rural lifestyle and wanting to be involved in the agricultural community? Check out the Farmer's Institute. Contact the Agricultural Alliance. Make sure to enjoy the 2-day Fall Fair in September. Drop into Foxglove Farm and check out their programs.

Buy a copy of local author Brian Brett's book, Trauma Farm...his lovely version of his back to the land experience on Salt Spring Island...very evocative and very funny! On YouTube, look for Food Network's Chuck and Danny's Roadtrip...two chefs from Toronto crossed Canada, and they came to check out the foodie scene on Salt Spring...I think they caught the essence of this quirky island.

Meanwhile...I'm on a farmer's box list...Shop Local is the key to a small community's viability. Your thoughts? Always welcome. Seeking to buy a farm property? Call me!


---
March 6, 2020.

Classic modern with a view!



Seeking inspired design with a rural allure? Here it is, on special Salt Spring Island. Sunny privacy, ocean/islands/mountain views, in prestigious Old Scott Road neighbourhood.



An authentic heirloom H. Schubart design (studied with Frank Lloyd Wright), with 21st century updates.



A beautiful blending of interior/exterior...expansive windows invite the natural world to seamlessly mesh with the graceful interior living spaces.



Three bed/two bath, open plan living/kitchen/dining, plus second living. Spacious studio (artist?) and separate inviting office. Ready to immediately enjoy.

A blend of forest and open meadow...step into your next lifestyle adventure. Call me!


---
March 2, 2020.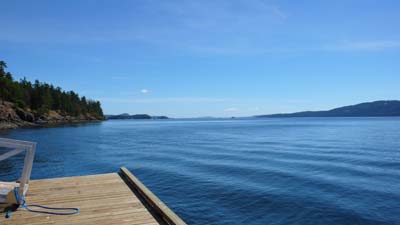 March ends Winter and begins Spring...or so the calendar says. A mixed messages month, then.

Salt Spring and the Southern Gulf Islands (along with all Pacific Northwest Coast communities) are at their very best between the beginning of April and the end of October...Spring, Summer, Fall. There is no "bad" season, though, and March brings Spring beginnings and also suggestions of summer-summer with it.

Lots to see and do: March Break, Home & Garden/Wellness show, soft launch of the new Salt Spring Marina, a wake-up call for gardeners (with February's Seedy Saturday tips), special events at ArtSpring are just a few. Check the Chamber calendar.

A great time to look at property offerings, too: ocean view? Oceanfront? Farm? Acreage to build on? Townhome? Commercial opportunity? New home? Fixer-upper? Look forward to hearing from you and to helping you to buy your special Salt Spring gem.

Your best interests are my motivation. Benefit from my experience, knowledge, expertise. Real estate on a Gulf Island can be an excellent investment. (Ask me about the Islands Trust).

In a seller's market (classic definition: few listings and many buyers), one needs to think creatively to make a purchase work. 2020 may be that classic seller's market. Call me!

Enjoy these longer days, the return to daylight saving time, the sunny and warmer opportunities to enjoy patios/decks (lots of great coffee spaces), and the vistas of Spring erupting all around us. Salt Spring's lovely Spring face smiles hello.


---