Current Entries
---
August 27, 2020.

Seeking an authentic farm opportunity? Here is a gem, and it's on special Salt Spring Island.

Almost 12 acres, substantial cultivation in place, with open meadow areas, forested trails, and opportunity for an ocean view site...build your dream home here.

An heirloom property, nurtured to be a productive farm option, on the doorstep of Ganges Village amenities...terrific investment/holding property.

Harbour Farm awaits your pleasure. Call me!

A farm in a village



The Harbour Farm is in the heart of Ganges. Blackberry-covered hedges and fences separate this peaceful private secret beauty from the bustling life of this prosperous and eclectic town. The building site is hidden away in the middle of things, a short walk from stores, hospital, churches, businesses, library and parks.

The Harbour, the Village, the Woods



The Harbour Farm property enjoys a picturesque view of Ganges Harbour, Beyond the sailboats and yachts bobbing at anchor, in the distance you see the outer Gulf Islands that make up the National Park. Trails lead from the farm through lovely woods to the village, the hospital, the harbour, restaurants, and all the amenities of modern life. When you get home, close the gate behind you and enjoy the quiet abundance of the farm.

Water, Soil, and Sun



The creek running through the farm is called Crofton Brook. Even in the driest of summers it has never stopped flowing. This seemingly endless supply of water makes agriculture at the Harbour Farm possible. Successful crops have included tomatoes, raspberries, lettuce, cantaloupe, strawberries, leeks, mulberries, quinoa, quince, potatoes, garlic, cucumbers, and about 100 other crops. The farm has raised sheep, goats, chickens and bees.


---
August 24, 2020.

WOW! The very beautiful and irreplaceable Hastings House resort-hotel is seeking new ownership.

A part of the renowned global Relais et Chateau group, this gem is in excellent order and also offers serious expansion opportunities.

The Islands Trust means that the zoning for this important enterprise cannot be repeated. Ask me about this. Hastings House is unique.

Interested in the adjacent new Marina parcel as well? Same owners and they would consider offering both the resort-hotel and the new Marina as one unit.

An exclusive listing with me. I look forward to speaking with you about this investment opportunity...the premier holding on the premier Gulf Island!



Resort opportunity!

Hastings House, a Relais et Chateaux destination resort-hotel, is seeking new owners.



Award winning fine dining, bistro style dining option, seminar and wedding opportunities, spa, oceanfront acreage with restored heirloom cottages and stylish Townhome guest spaces...zoning allows for further expansion...currently, 18 premier guest opportunities in place...plus, exquisite gardens, patios, decks, forest trails...an escape to serenity welcomes you.



Salt Spring Island, the largest and best serviced of the Southern Canadian Gulf Islands, enjoys a temperate micro-climate (known as "cool Mediterranean"), with vineyards, wineries, cideries, olive groves. Orchards, small holding farming, berry farms...the Island offers bounty and the agricultural community is represented at seasonal Farmers Markets.

It is possible that a portion of Hastings House lands could become a vineyard.



To own such a large acreage, on the waterfront, close to Ganges Village amenities, and yet serenely apart, is a premier offering.

Consistently maintained to the high standards required by the global Relais et Chateaux network, this luxury country hotel is immediately ready to go...and there is opportunity for a new owner to expand the vision.

Call me, for your personal viewing of this irreplaceable offering.

The Islands Trust form of governance (in place since 1974) means that there will not be another resort-hotel...the Trust curtails growth through strict zoning/density bylaws.

So...totally unique, absolutely beautiful, this waterfront holding on the premier Gulf Island awaits your discovery.

Price upon request.


---
August 22, 2020.

Here is an authentic investment opportunity...the state of the art brand new Salt Spring Marina is seeking new ownership.

The commercially zoned upland parcel can be redeveloped...ask me about this.

The amazing new Marina is in place and ready to go...a desired home for your yacht and a premier destination on the premier Gulf Island.

More information? Call me!

An exclusive listing with me. I look forward to your call.



Opportunity! The new and expanded Salt Spring Marina, and the commercially zoned upland area are for sale.



The land portion offers the opportunity of redeveloping the retail spaces and also the construction of resort accommodation buildings.



In the heart of some of the best protected boating waters in the world, this location on Salt Spring is very valuable. The Harbour Walk connects the location to Ganges Village...a short stroll to all town services/amenities.



The Marina expansion, plus the option of the redevelopment of key retail/restaurant rentals, the potential construction of accommodation units nestled into a gentle slope on the perimeter of this land...this is the signature commercial location on the shores of Ganges Harbour.

Call me, for details. Price upon request.


---
August 19, 2020.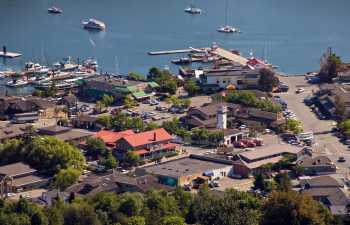 In more usual times (pre-pandemic closures on March 12th), this time of year would see community Fall Fairs, and the PNE (Pacific National Exhibition) in Vancouver.

Salt Spring's long running Fall Fair will be a virtual event and this concept is being followed in all the Gulf Islands and Vancouver Island communities.

Virtual...is this the "new normal"? No immediate connectivity...rather, a visual representation of "real reality"? Hmmm.... It's not about being a right or wrong version of an experience...it's just "different".

So: virtual meetings, virtual school curriculums, virtual real estate viewings, virtual shopping, virtual travel experiences, virtual Fall Fairs, virtual...fill in the blank. It's a method of communication and you remember what Marshall McLuhan said in the 1970s (the Medium is the Message).

We probably thought he was talking about t.v., but this futurist was describing the impact on culture of the internet/digital revolution, still not yet in place...and he did this before Steve Jobs gave us the smart phone and therefore the world in the palm of our hand. Hmmm....

Neither right nor wrong...just different. The ten week closures following the arrival of covid-19 pushed us all online. Now we have to figure out how to meaningfully "be there" in our new normal.

And your thoughts are? Always welcome!


---
August 15, 2020.

Seeking a sunny rural property with privacy and dramatic views? Here it is...two adjacent parcels, being sold as one unit.

Ready to create your dream...or, hold for now. It's a terrific investment opportunity. Ask me about the impact of the Islands Trust form of governance.

Sun and views and pastoral ambiance...it doesn't get any better!



Two adjacent ocean view properties of 1.5+ acres each. Properties also enjoy views of St Mary Lake. You will love the views!

Located close to the town of Ganges. Sunny & private.



Don't overlook this opportunity for the location of your dream home!


---
August 12, 2020.



Here we are...mid-August. Summer is half-way through. Some mornings, fog drifts over Ganges Harbour...a reminder of nearby Fall. Hot and sunny days also promise that it's still authentic summer. A middling month, August. One to be savoured.

Star watching (meteor showers) are there to enjoy...it gets darker earlier now. Swimming at St Mary, Cusheon, Weston Lakes...or try the allure of Vesuvius Beach, Arbutus Beach, Cranberry (Bader's) Beach, Drummond Park, Fernwood if you love ocean swimming, too.

Hope you've taken a picnic and kayaked to Chocolate Beach, or walked the trails at Ruckle Park, Burgoyne Park, Mt Erskine, Channel Ridge...there's still time!

Enjoy the decks and patios around the town...coffee, lunch, dinner: Moby's, Treehouse, Switchboard, Kitchen, Auntie Pesto's, Salt Spring Inn, Rock Salt, Piccolo's, Hastings House bistro, Barb's, TJ Beans..and your fave is? Share!

Tuesday Farmers Market, pared down Saturday Market...following covid rules...and farm gate stands around the Island. Winery and cidery tastings. The fresh and organic bounty of the agricultural community awaits your discovery.

ArtCraft is open, some ArtSpring events are open, the Ganges galleries are open.

A covid summer is a little different...but it's still Salt Spring...with all its myriad charms smiling back at you.

Mid-August? Enjoy!


---
August 8, 2020.

A rare finding on Salt Spring Island! Two new view homes in sunny neighbourhood, close to everything, with quiet privacy. Just move in!



Opportunity!



A new home, purpose designed for this lovely small acreage (lot 22, Spring Gold Way). Views over St Mary Lake, Salt Spring fields and forest, towards the dramatic Lower Mainland mountains.



Sunny exposures (e/s/w). Excellent drilled well, new septic, park reserve on one side-line for privacy...paved road to your private driveway. Mainly level, easy to landscape/garden to your wishes.



3 bed / 3 bath, dramatic living, stone fireplace, entertainment dining, great kitchen (appliance package), sep. laundry, attached double garage. A Wow! Close to all of Ganges Village amenities (schools, indoor pool, shopping, galleries, library, ArtSpring theatre centre, restaurants and also to golf & marinas...also close to hospital). Close to park hiking/walking trails.

Sleek design, lovely finishes,ready to enjoy!



Check this one out....a definite "best buy".



Wow! Ocean, islands, mountain viewscapes from this dramatic small acreage.



Sunny (e/s/w) exposures, sunset vistas in summer season, gently sloping land with level areas...arable, easy to landscape / garden to your desire.



Close to Ganges Village and all services / amenities (banks, schools, restaurants, theatre (ArtSpring), indoor pool, galleries, library, and to golf and to marinas). Close to hospital. Hiking/walking trails at your doorstep.



Step-in ready, brand new purpose built home.

Check this out...rare to find new construction for sale on Salt Spring.


---
August 5, 2020.

The very best ocean view on Salt Spring? Here it is!



Superb executive home, on 6+ acres, in an area of fine homes, and with million dollar views, 180 degrees from West Vancouver to Mount Baker. Excellent all day/year round sun exposure (sunrises and sunsets, here!).



Close to both Ganges and Fulford Villages, and to lakes, to beach accesses, and to park hiking/walking trails, and to golf, marinas, all services, and yet in its own wonderfully serene and private environment.

Custom designed and construction by Gordon Speed Construction, Salt Spring's premier builder, the attention to detail here, and the fineness of the finishes, are superlative.



High end finishings thoughout: infloor heating, vaulted ceilings, hardwood & concrete flooring, Rumford floor to ceiling wood burning fireplace, high end appliances.



Master bed sitting room, with expansive decking off (hot tub with a view!), a dream ensuite (this shower is exceptional), and large walk in closet, is in its own private "wing". Dream kitchen with pantry/storage and mudroom entry off, dramatic dining with window wall that totally opens to the outdoor barbecue/decking, thus expanding summer living pleasures, plus formal entry and guest powder room. Separate laundry, and exercise room completes main level.

Garden level offers gallery/meditation space, guest bed and bath, media room, and a professional office space (could be third bedroom, if desired), plus generous storage. Easy access to patio areas, and that soaring view available to all principal rooms.

A finishing carpenter's personal home, totally unique, and totally beautiful. The home is ready to just move into and to enjoy. Landscaping (easy care/natural) frames the home. A home to inspire and to nurture one's soul...enjoy!

Priced below replacement value.


---
August 2, 2020.

Architect designed gem, panoramic views, serene privacy...close to Ganges Village. Enjoy!



Every now and again, the perfect home appears...this gem is on special Salt Spring Island, and awaits your pleasure!

Designed by architect H. Schubart (he studied with Frank Lloyd Wright, and moved to Salt Spring from San Francisco, in the 1960s), this perfect rendering of the authentic West Coast Contemporary design ethic is a gem.



Lovingly upgraded by the current owner (only the second owner...you can see this is a loved property!), the home offers an open plan living/dining, with feature stone fireplace, and kitchen off.

Easy access to expansive decking...a sunrise vista and a sunset glow...choose your deck.



Two bedrooms/two bath, privately located, with ocean or garden views, welcome you home. The plus? A separate entry suite with bed/bath, and kitchenette, for guests...a private deck...and that inspiring panoramic view.

Close to Ganges Village, to Sailing Club, to all services and amenities...yet wonderfully private and serene.



Enjoy ocean, islands, mountain vistas from this beauty. Ready to move into and to enjoy!

Easy to view.


---