Current Entries
---
September 29, 2021.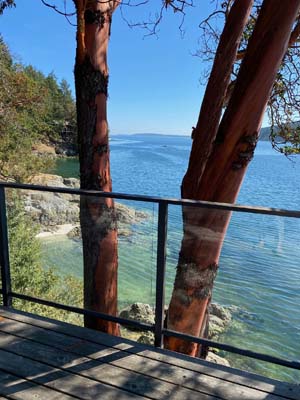 Fall. It brings rain and wind and sun and weather varieties. Cloud, clear (star watching!), and shorter days.

SSNAP (Salt Spring National Art Prize) takes place this year, straddling September/October.

The wonderful Apple Fest takes place on October 3. Harvesting of grapes at the wineries is underway. The olive harvest and the apples for the cideries are being picked. The Saturday and Tuesday Farmers Markets officially run till end of October.

Agriculture and the Arts are two key pieces of the Salt Spring experience.

The Sip and Savour event has evolved into special menus and wine pairings at our stellar restaurants. The Canadian Thanksgiving Holiday Weekend (mid-October) is an annual harvest theme.

Hiking trails, parks to explore (Ruckle, Burgoyne, Erskine, Mill Farm, Maxwell. Channel Ridge...), beaches to meander.

So much to appreciate on Salt Spring and the Gulf Islands in this loved Fall Season. Enjoy!


---
September 27, 2021.

Seeking a casually elegant family home, with potential dedicated office space, and with Harbour views? Here it is...brand new and ready to move in!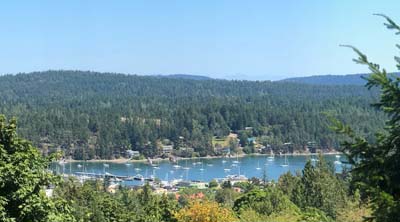 Ocean View Privacy

Close to Village and all services and amenities...can stroll to town if desired. Quiet privacy...good sun exposures...on sewer and water.



This graceful brand-new home awaits your pleasure!

Dramatic living, dream kitchen, spacious dining...master "wing"/ en-suite...guest powder room...inviting decking to expand summer living pleasures. Level entry main floor. Wood floors, custom windows, vaulted ceilings.



Garden level offers suite/in-law potential, or a perfect space for a professional couple working from home...great family opportunity. You decide! Separate laundry. Two bed, bath, living. Views, patio.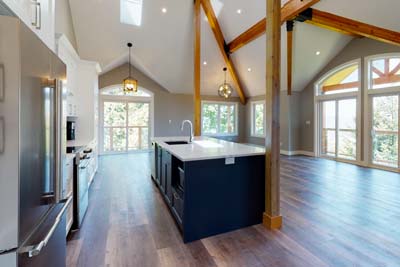 Property is 1.134 acres and is in natural state, awaiting your landscaping ideas. Ready to just move in & to enjoy!


---
September 23, 2021.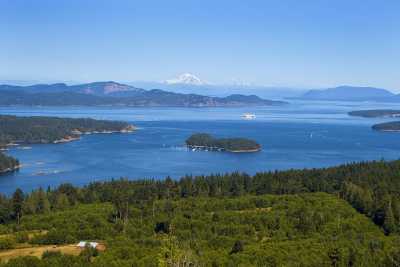 Well, the calendar now agrees with meteorological Fall (which began on September 1st). It is now the authentically and recognized Fall season.

Salt Spring and the Gulf Islands are alluring in any of the four seasons, and true Fall is a very special time to visit.

The deciduous trees threading the conifer forests are sun splashed gold...beautiful! It's time to catch up on the amazing hiking/ walking trails.

The harvest season continues with Farmers Markets and plentiful farmgate stands. Wine tastings, cidery tastings, craft brewery invite one to sip and savour. Local restaurants create special Fall themed menus. (Just remember that you need to show your digital vaccine passport, for entry to restaurants).

Love sailing? The Fall/Winter racing competitions switch to Sunday afternoons. Crew always welcome.

Yes, the days are shorter...but crisp clear evenings invite star watching.

Lots to enjoy in this softer season...hello Fall.


---
September 19, 2021.

An inspiring home, serene waterfront, in magical Maracaibo...ready to enjoy!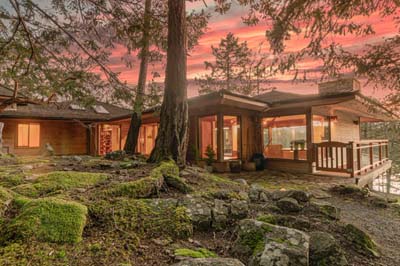 Your next adventure awaits...and it's on very special Salt Spring Island.

This private and sunny acreage enjoys a natural scape, with a mix of coastal forest and open meadow areas...with arbutus and garry oak groves. Unique and beautiful.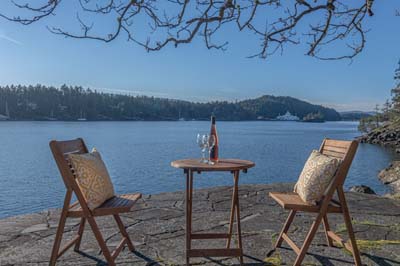 The property is located in the premier neighbourhood of Maracaibo. The entire Atholl Peninsula became the bare land strata known as Maracaibo in the 1960s. The concept was to preserve the untouched beauty of this almost 700 acres.



One owns one's lot freehold and one also has a share in the 250 acres of common land. There are 9 miles of hiking/walking trails, 9 cottages for the use of owners, a salt water swimming lagoon, docks for your yachts, the Nose Point preserve, just for the owners...and so on. From Vancouver? Then imagine your own private "Stanley Park"...you get the idea. A wondrous acreage parcel to call home and plus, plus, plus! Call me for more details.



The exquisite home on this private oceanfront acreage was designed and executed by H. Schubart. Schubart studied with Frank Lloyd Wright, and left an architectural practice in San Francisco to move to Salt Spring. This is archetypal and authentic "West Coast Contemporary".

Artfully rendered spaces that blur the line between inside/outside...two master bedrooms, two bath, in own private wing. A casual living/dining with kitchen off...and a library alcove. Guest powder room. Separate laundry. Dramatic living and dining, feature fireplace, vistas of sea and forest from all spaces.

A separate studio (guest beds/bath, with lovely office/library) is linked to main home by an artful garden atrium oasis. Spacious double garage adjacent, with room for that classic car.

Architectural flair with ease of living and a sweep of decking to expand summer living pleasures. Meander a path to the private Oceanside patio...enjoy the marine views out tranquil Long Harbour. This is a property of style and inspiration. Enjoy!


---
September 16, 2021.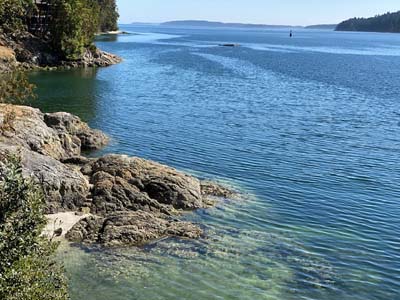 The federal election voting day is September 20th.

No matter who we want to vote for, it's so important to cast one's ballot. It is not a time for apathy.

We are very lucky that we have the right to vote, to be able to turn up at a voting centre and to benefit from the secret ballot opportunity and to know that our vote will be counted.

This is not the case in many countries.

Never take this for granted. The system needs our input. Our civic duty?

So: listen to the candidates, be thoughtful, and make sure to get out and vote. Every individual ballot counts.


---
September 13, 2021.

Looking for a custom home, in a quiet and beautiful area, with a dock for your yacht? Here it is!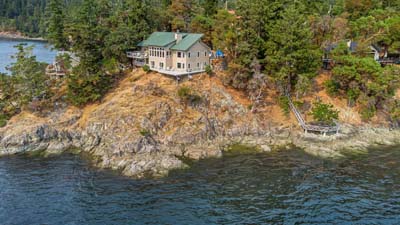 Seeking an oceanfront home with dramatic views and the privacy of a point of land? A short stroll to a community dock? Here is a beauty, on special Salt Spring Island. Ready to enjoy!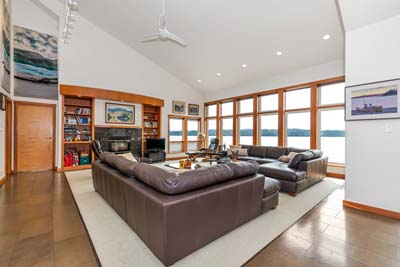 Quiet and relaxed ambiance welcomes you to your next home. Approximately 250 feet of south/southwest/west oceanfront. Protected docks for your yacht only a short stroll from this private waterfront point of land.



The light-filled custom home invites you to immediately enjoy this thoughtful and fine design. Beauty within and without. Fine finishes and a floor plan for ease of living.



An exquisite birds-eye maple kitchen (serious cooks will love this!), a dramatic living that matches the ocean vistas, an open floor plan that provides an ocean view from all principal rooms. Private master wing, perfect dedicated home office, separate laundry, guest powder room, mud-room entry from two car garage.

A garden level suite completes this 2872 square foot sophisticated home.

It's all here...come discover your next adventure!


---
September 11, 2021.



Twenty years ago today we all saw courage in action.

We never get to choose the time we live in.

Twenty years ago people went about their business...on planes, in offices, left family behind...went to work...and........

Remember. The caution about history: those who ignore it are doomed to repeat it. Hmmm...,.

Remember those who stepped to the plate and answered the call of selfless service.

Thank you.


---
September 8, 2021.

Here is the perfect rural property...and waiting for you on tranquil Mayne Island.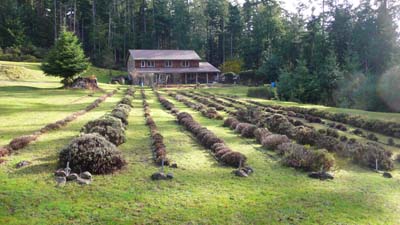 Seeking tranquility? Interested in a pastoral / potential farm property? Considering a live/work home opportunity? Here it is, awaiting your pleasure, on serene Mayne Island.



This lovely country home enjoys many unique features. The owner was interested in a studio space for showcasing artistic endeavours. With a separate entrance, and private from garden level area, this home's design lends itself to a separate suite...for a B&B or as a year round rental.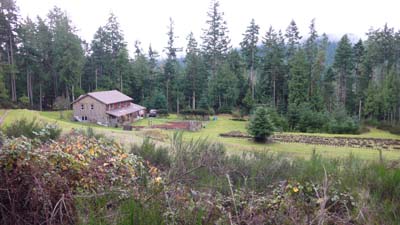 The level entry garden level, with verandah style patio, offers a living area, dining, country kitchen...plus two bedrooms and full bath. Separate laundry and spacious storage area. Attached storage for garden implements.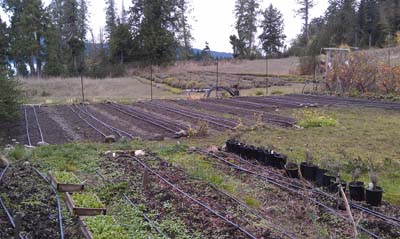 Upper level offers separate entry/foyer, office, two flex areas, & powder room. Ideal for a home based business. Potential to add two more bedrooms.

Deer fenced garden area. Beautifully tended lavender garden. Irrigation in place. Pasture and forest and distant view over Miners Bay and Active Pass. Can walk to Village centre from here. Potential for subdivision.

A sunny and quiet rural holding. Excellent ferry service from Village Bay to Vancouver and to Victoria.

An authentic country lifestyle can be yours. Mayne enjoys beautiful beaches, park hiking/walking trails, easy access to major centres and yet is wonderfully apart. This is a rare find.


---
September 5, 2021.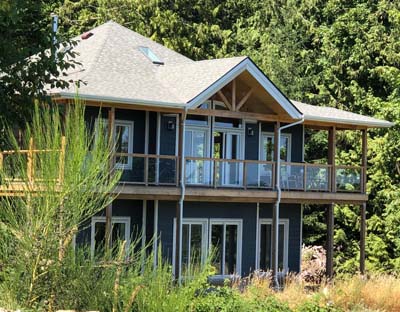 Housing. The lack of affordable housing and good work rentals remains an issue everywhere. The current Federal Election platforms from all candidates are focusing on this issue.

The pricing of housing across Canada puts home ownership out of reach for many and rentals are scarce. Salt Spring Island has these same issues.

The problem is about supply and demand, the old caution from Economics 101.

Pricing increases in real estate have nothing to do with sellers or realtors. Buyers drive markets.

When supply is low and there are many buyers desiring the item, prices rise. Increasing supply is the way to bring back balance.

This means governments at all levels (federal, provincial, municipal) need to offer creative responses to organize construction of homes, townhomes, condos...and rental opportunities need to be a part of this.

On Salt Spring, the Islands Trust (their mandate is about land use/bylaws issues) needs to allow existing homes to create rental suites, and needs to support construction of new product, and needs to consider reconfiguring empty office spaces above storefronts in Ganges Village...rental accommodation in the town would create a more vibrant and safe "village atmosphere".

All simple measures that would immediately ease housing pressures...and would encourage all age groups to continue to call Salt Spring home.

Younger people, aging in place people, working people, retired people, student people, business owner people...the fabric of a successful community needs all demographics.

So, Islands Trust...what are your plans? 1974 needs to say hello to 2021.


---
September 2, 2021.

Here's an ocean view opportunity for you, on special Salt Spring!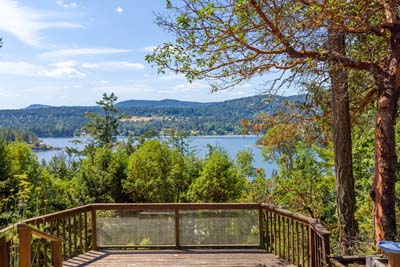 Here is a very special property...and it's on lovely Salt Spring Island, awaiting your discovery.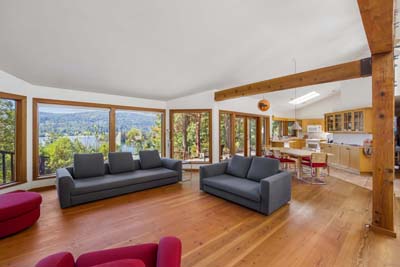 This 2.91 acres enjoys a beautiful entrance off a quiet country road...a peaceful and inspiring driveway curving through mature coastal forest.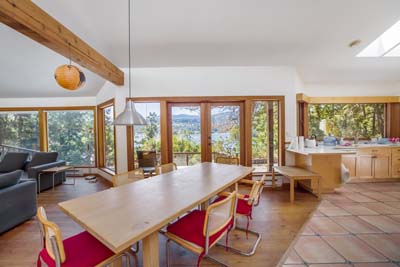 Approximately half way into the private property, one sees the custom west coast contemporary home, nestled into its natural landscaped space. Beyond is beautiful Ganges Harbour...tranquil ocean vistas.



The property slopes gently to an heirloom road...Arbutus trees here...maximum privacy and sense of calm on this entire acreage.

Sunny (morning to evening light), private, quiet...in one of Salt Spring's premier neighbourhoods.

The home offers level entry main floor, with dramatic living and dining, feature fireplace, wood floors, tile entry/foyer, country kitchen, 2 spacious bedrooms (master en-suite), laundry, full guest bath, plus pleasing architectural stairs to lower/garden level...a self-contained suite here with patio off.

Sunny decking, separate studio, double carport. Perfect for a professional couple working from home. The suite offers potential b&b or in-law space.

This gem invites one to settle in and to enjoy. Let's view!


---