Main Menu : Home | Li Read | Business Card | Listings Portfolio | Gulf Islands | Reference | Real Estate Network | Send E-Mail
Gulf Islands : Galiano | Mayne | Pender | Salt Spring | Saturna | Other Islands
Gulf Islands : Education | Health | Islands Trust | Localism | Map | National Park | Marinas | BC Ferries | WA Ferries

BC Ferries
BC Ferries transports people and their vehicles to 47 ports of call, with a fleet of 40 Ferries.


There are two main ferry ports for accessing the Gulf Islands. On the British Columbia Mainland, there is the Tsawwassen Ferry Terminal. Tsawwassen is near the city of Vancouver, which has the international airport.

On Vancouver Island, near the town of Sidney, is the Swartz Bay Ferry Terminal. Swartz Bay is about a 40 minutes drive from the provincial capital city of Victoria.

Each of the large islands has different levels of ferry service. Getting to some islands may involve short stops at the hub islands of Mayne and / or Pender.

There is a third route to Salt Spring Island, from the town of Crofton on Vancouver Island, which arrives at Vesuvius on Salt Spring.


Contact Information
Long Harbour - Tsawwassen Ferry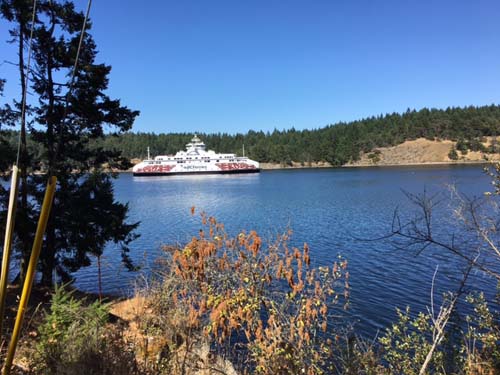 Contact Li Read at Sea to Sky Premier Properties (Salt Spring), 4 - 105 Rainbow Road, Salt Spring Island, BC, V8K 2V5; Direct Tel: 1-250-537-7647